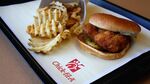 Subscribe to the Bloomberg Benchmark podcast on iTunes
Subscribe to the Bloomberg Benchmark podcast on Pocketcasts
Every week, hosts Tori Stilwell, Dan Moss and Aki Ito bring you a jargon-free dive into the stories that drive the global economy.
  As U.S. election rhetoric reaches a fever pitch, politicians aren't the only ones taking a stand on issues. Some of the biggest brands around — Chipotle, Chick-fil-A and Apple — are wading into politics, a behavior that may only intensify as November approaches.
Kurt Carlson and Chris Hydock, faculty at the Georgetown Institute of Consumer Research at the university's McDonough School of Business,  join Tori to discuss the economic consequences companies face when they take a position on divisive issues, and how it's easier than ever for consumers to vote with their wallets. 
Before it's here, it's on the Bloomberg Terminal.
LEARN MORE