FIFA Reveals Blatter Made $3.7 Million as Legal Fees Balloon
by
Global soccer's governing body details finances for first time

Blatter, now banned, made 15 times more than the head of IOC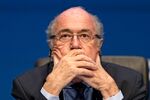 When asked, former FIFA president Joseph "Sepp" Blatter typically suggested his salary was "about $1 million." Turns out it was quite a bit more.
For the first time, FIFA made public Thursday the salaries it pays its senior officials. Blatter, who has been banned from soccer for six years, tops the list at $3.72 million, followed by the also-banned secretary general, Jerome Valcke, who was paid about $2.17 million.
Blatter's compensation is about roughly 15 times the salary of the president of the International Olympic Committee, who receives around $242,000 per year, plus generous per diem allowances. It's roughly on par with what the chief executives of top English Premier League teams get, but far less than the heads of American sports leagues earn.
Details of salaries paid to FIFA's executive committee, which will be disbanded and replaced by a larger body after its last meeting tomorrow, were also revealed. Its members got $300,000 each, and senior vice president Issa Hayatou, who heads African soccer, got an additional $500,000 because he heads the finance committee too.
The pay disclosure is part of a series of reforms adopted by FIFA in February as part of an ongoing rehabilitation effort. The organization is trying mightily to leave behind the sweeping international corruption scandal that led to charges against dozens of top soccer officials around the world. Earlier this week, FIFA filed for millions of dollars in restitution from the named defendants, painting itself as the victim of a series of bad actors.
"With the recently approved reforms, I believe that we have turned a corner and FIFA is poised to emerge stronger than ever," FIFA's new president, Gianni Infantino, said in a statement.
Blatter, 80, has been banned from soccer for six years, a punishment he is appealing in the Court of Arbitration for Sport. Until the case is heard, FIFA continues to pay for his driver and an apartment he uses in Zurich.
The annual report also underscored the financial toll the corruption scandal has taken on FIFA. Since the arrests began on May 27, FIFA has retained U.S. law firm Emanuel Urquhart & Sullivan LLP to conduct an internal investigation and manage its relationship with the Department of Justice. FIFA paid $61.5 million in legal fees in 2015, up from $31.3 million the year before.
The organization, which makes almost all of its money from the World Cup, had already announced it's $550 million behind its $5 billion revenue target for the four-year cycle that includes the 2018 World Cup in Russia. The organization lost $122 million in 2015, its first loss since 2002, largely a result of its ballooning legal fees and other damage from the crisis.
Before it's here, it's on the Bloomberg Terminal.
LEARN MORE