Exelon Finds Out How Tough D.C. Can Be
A deal to make a mega-utility founders on local power struggles.
By and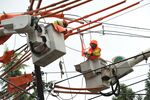 Chicago-based energy company Exelon came to Washington in 2014 with a plan to create America's biggest utility by acquiring Pepco Holdings, which provides power to the District of Columbia and neighboring parts of Maryland, as well as areas of Delaware and New Jersey. But the $6.8 billion takeover has hit an unexpected obstacle: a local fight over who gets to control the $78 million Exelon and Pepco have offered to hand over as a deal sweetener. The dispute between Mayor Muriel Bowser, a Democrat, and the local utilities regulator, the District of Columbia Public Service Commission, could kill the deal.
On March 7, Exelon, the biggest U.S. nuclear energy operator, and Pepco introduced a last-ditch proposal that included a plan for meeting environmental targets and freezing residential rates until 2019. The companies asked for a final decision by April 7.
Exelon Chief Executive Officer Chris Crane wants to add Pepco's steady, regulated earnings to offset losses at some of his company's nuclear power plants. "We think this deal is the right deal at the right time for Exelon," he said when he announced the merger in 2014. Exelon and Pepco won approval from Delaware and New Jersey, and in January they overcame a legal challenge from Maryland officials, leaving the District the last remaining hurdle.
Local regulators initially rejected the merger in August, saying it wasn't in the best interests of ratepayers and could curtail the District's efforts to use more renewable energy. Six weeks later, Exelon and Pepco announced a settlement with Bowser and other city representatives. The arrangement included assistance for low-income customers and grants for green energy projects.
In February the three-member utilities commission spurned that plan, saying it deprived the commission of its ability to determine how the money should be allocated. It put forth an alternative that didn't guarantee a residential rate freeze, which the mayor's office and other city officials promptly rejected. "If this thing gets scuttled, it'll be scuttled for perhaps these reasons of who gets to control what money," says D.C. Councilmember Mary Cheh, a Democrat who represents neighborhoods in the city's northwest quadrant. She opposes the merger, which she thinks could raise rates.
The District's consumer advocate, People's Counsel Sandra Mattavous-Frye, said on March 11 that she wouldn't accept the company's most recent offer. D.C.'s attorney general, who represents the mayor's office, also rejected it. Commission spokeswoman Kellie Armstead Didigu declined to comment on the proposal. Exelon and Pepco said in a joint statement they still hope a solution can be worked out. "Exelon and Pepco have tried like crazy to get the deal done," says Paul Ridzon, an analyst for KeyBanc, a Cleveland-based investment bank. "But when you get politicians involved, I try not to handicap it."
The bottom line: D.C. officials are on the verge of blocking a $6.8 billion merger between Exelon and Pepco that would create the largest U.S. utility.
Before it's here, it's on the Bloomberg Terminal.
LEARN MORE