Europe Bets on Robots to Help Care for Seniors
Mechanical aides can pick up groceries and take out the trash.
By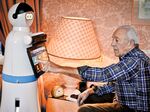 Retiree Maurizio Feraboli taps a grocery list into a tablet and sends wheeled robots to retrieve food from a store near his apartment outside Pisa, Italy. His neighbor Wanda Mascitelli directs robots to grab the trash from her kitchen and drop it into a dumpster on her street. A robot also warns Mascitelli about a possible gas leak and later brings her a glass of water and a bottle of vitamins.
These scenes are from a video promoting the European research project Robot-Era, which recently concluded the world's largest real-life trial of robot aides for the elderly. About 160 seniors in Italy and Sweden tested the robots during the four-year project, which received €6.5 million ($7.2 million) from the European Commission and €2.2 million from partners including Italian manufacturer Robotech and Apple supplier STMicroelectronics. Now Robot-Era manager Filippo Cavallo and fellow professors at the BioRobotics Institute at the Sant'Anna School of Advanced Studies outside Pisa have started a company called Co-Robotics to commercialize the technology. "The robots in the video are ready" for more testing, says Cavallo, who plans to start selling them as soon as next year.

As part of a plan to strengthen the region's robotics industry, the European Commission is investing tens of millions of euros annually in technology to help the elderly. The projects may not be as sensational as Toshiba's android, ChihiraAico, which resembles a Japanese woman, or Honda's humanoid assistant, Asimo, but the results are on "the same level or even more advanced," says Uwe Haass, a former secretary-general of EuRobotics, a nonprofit advocacy group in Brussels that works with the commission.
Backed by €4.3 million from the European Commission and partners such as Siemens and Telecom Italia, a project called Acanto launched in February 2015 to make robotic walkers that encourage seniors to exercise and socialize. About 100 seniors in Spain, Italy, and the U.K. will test the devices before the experiment concludes in 2018. The goal is to have a version of the walker for hospitals and a less expensive one for families priced for less than €2,000, says Luigi Palopoli, the University of Trento computer engineering professor overseeing the project. "A walker that is a robot but doesn't look like a robot" has a better chance of being accepted into everyday life, he says.
The European Commission has given €4 million to Mario, a group that's developing robot companions for people with dementia. "You can ask the robot the same thing 10 times, and it will never get annoyed," says Kathy Murphy, a professor at the School of Nursing and Midwifery at Irish university NUI Galway. She's helping manage the research with partners such as French developer Robosoft and the U.K. town of Stockport. This summer, Mario will start pilot programs with seniors in Ireland, the U.K., and Italy. When the project concludes in 2018, the goal is to commercialize a "cost-effective robot that health-care providers would wish to purchase" to help assuage loneliness and isolation and reduce health-care staff, says Murphy.
"The commission has very clear goals around the use of robotics in the field of active and healthy aging," says Andy Bleaden, Stockport's funding and programs manager and an external evaluator for projects seeking funding from the European Commission. Along with addressing a social need, he says, "the reason the EC is putting money on the table is to get ours to market faster than our competitors."

That's the goal of Vincent Dupourqué, the founder of Robosoft in Aquitaine, France, which makes the Kompaï robots Mario is testing. A biomedical engineer who's been working in robotics since the end of the 1970s, he plans to take Kompaï robots into commercial production next year and produce 10,000 units annually in 2020, selling them for €5,000 each. Because of the shortage of caregivers and snowballing interest in robotics from nursing homes and insurers, "this is the right time to accelerate," says Dupourqué.
Worldwide, manufacturers sold 4,416 elderly and handicap assistance robots in 2014, according to a fall report from the International Federation of Robotics in Frankfurt. IFR describes elderly care as a "major market of tomorrow" and projects sales will total 32,500 units from 2015 through 2018.
Proving robots can better seniors' quality of life and reduce the cost of caring is crucial to developing the market, says Anne Gradvohl, innovation director at Intériale, a Paris-based insurer that tested Kompaï robots in a handful of elderly clients' homes last year. Participants "realized robotics is not dehumanizing the relationship," she says. "They realized robots aren't there to replace caretakers" but to complement them and "give peace of mind to their families in case of an emergency." Gradvohl, who says other insurers are investing in robotics companies focused on the elderly, is planning a second round of in-home testing with Kompaï robots. That will last 6 to 12 months with a larger group of clients who need daily assistance. "We don't consider robotics an answer to everything," she says, "but it can help people stay at home longer with security at an affordable price."
The bottom line: By one estimate, 32,500 robots designed to help care for the elderly and disabled will be sold from 2015 through 2018.
Before it's here, it's on the Bloomberg Terminal.
LEARN MORE