EU Struggles Toward Refugee Accord as Flow From Turkey Continues
by , , and
Turkish demands, Greek worries dominate Brussels refugee talks

Merkel `cautiously optimistic' about deal at two-day summit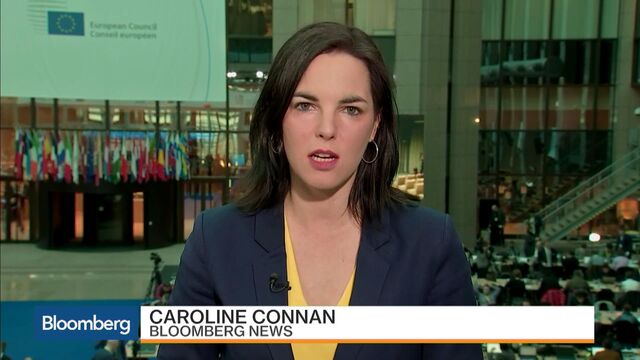 European Union leaders struggled to draft a proposal for Turkey that would control the flow of refugees without bottling them up in Greece or denying them international legal protections.
The EU all but abandoned a proposal by German Chancellor Angela Merkel for the immediate deportation of migrants who come ashore on Greek islands after protests by human rights defenders. Instead, at the start of a summit in Brussels on Thursday, the bloc's leaders weighed how to fast-track asylum decisions on Greek soil, send back those who are ineligible and set up a legal resettlement channel for up to 72,000 people from refugee camps in Turkey.
"We have to balance the interests of the member states of the European Union and Turkey," Merkel said on her way into the summit. She said that while an accord "is in the realm of possibility, I'm being cautious."
The strategy worked out on Thursday will be presented to Turkish Prime Minister Ahmet Davutoglu on Friday. It includes sweeteners for Turkey such as an extra 3 billion euros ($3.4 billion) for refugee facilities, accelerating the country's bid to join the EU and visa waivers for Turks traveling to Europe.

Meanwhile, there has been no letup to the refugee stream after 857,000 made it across the Aegean Sea to Greece last year. Since the last EU-Turkey summit on March 7, close to 11,000 people have reached the Greek islands, bringing the total on that route to 144,000 so far this year. At least 96 have died trying, the United Nations says.
Legal Limits
Proposals for the near-automatic return of refugees from Greece to Turkey have been watered down since the last meeting after the EU faced accusations of flouting international humanitarian precepts, according to a draft obtained by Bloomberg News.
"The proposed package is very complicated, it will be very difficult to implement and it is on the edge of international law," Lithuanian President Dalia Grybauskaite said.
Greece, its civil service sapped by the five-year economic crisis, is straining to cope with 46,000 migrants unable to head north due to border closures by countries such as Austria. It now fears becoming part shelter, part courtroom for refugees not sent back to Turkey.
Greek Prime Minister Alexis Tsipras appealed for EU assistance with the "humanitarian crisis because of the unilateral actions."
EU migration controls also depend on buy-in from Turkey, a country outside the bloc which has become the temporary home to 2.7 million people fleeing the conflict in Syria to its south.
Merkel's Problems
Merkel has waged an increasingly lonely fight for a European open-door policy and her position became more precarious on March 13 when her party tumbled in three German state elections. While the German chancellor's plight gave the Turkish government more leverage to name its price, an agreement is under threat from the historic rivalry between Turkey and Cyprus, an EU member.
The Mediterranean island's northern part has been under Turkish military occupation since 1974 and its government has stalled Turkey's path toward EU membership. Cyprus President Nicos Anastasiades warned on Thursday against making fresh concessions.
"Unfortunately until now, Turkey hasn't fulfilled its obligations," Anastasiades said before the talks. Still, he said, Cyprus won't be the "obstacle" to a refugee-control accord.
Turkey is keen on getting European governments to drop what it sees as discriminatory visa requirements for its citizens. It is pressing for visa-free travel by the end of June.
No Free Ride
EU governments insist that Turkey first meet a 72-point checklist -- including the issuance of biometric passports -- by the end of April. So far, it has fully met only 19 of the targets, the European Commission says.
The visa-free bid is hostage to anti-foreigner politics in the EU and fears of terrorism. It would require approval by the European Parliament, which won't give Turkey a free ride.
"We can't have a process where Turkey says we want this, this and this and then we're willing to cooperate," Martin Schulz, the parliament's president, said.
Before it's here, it's on the Bloomberg Terminal.
LEARN MORE