Cuba's Cold Shoulder
Despite U.S. overtures, the island's entrenched socialists remain intransigent about trade.
By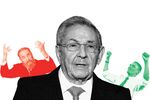 The U.S. president's mission to Cuba, which has spun itself into a hurricane of diplomatic and cultural expectations, is due ashore on March 21. Barack and Michelle Obama will tour Old Havana's cobblestone alleys, meet with revolutionaries and anti-revolutionaries, and possibly go as far as shaking the hand of an ancient, trembling, and all-powerful king.
That would be Mick Jagger, who is scheduled to perform at an outdoor concert with the band known as Los Rolling in the official Cuban media. Half a million fans are expected. The first American presidential visit to Cuba in 80 years will also include nine innings of baseball diplomacy, as the Tampa Bay Rays play the Cuban national team in the first exhibition game in 16 years.
For the U.S., the trade and economic benefits of Obama's attempt to normalize relations with the island are obvious: Cuba was once a major importer of American farm and industrial products, linked to the economies of New Orleans and Tampa by ferry, and flooded with state-of-the-art Buick Straight Eights, circa 1952. Obama has carved out exceptions to the 55-year embargo—including, on March 15, allowing U.S. citizens to visit Cuba individually, instead of in groups, and giving Cuba access to the international banking system. But only Congress can lift the whole thing.
Raúl Castro, 84, now the island's president and more pragmatic than his retired brother Fidél, 89, recognizes that Cuba must create millions of jobs for its restive young people and can't afford to pay for that itself. He'll probably ask Obama for billions of dollars in investment and an end to the embargo.
Despite the hoopla, little has happened to expand commerce since Dec. 17, 2014, when Obama announced that the U.S. was reestablishing ties with Cuba. The road ahead will test how intransigent Cuba's monopoly state enterprises are in the face of change. (The Ministry of Labor still keeps an official list of who's allowed to work as a birthday clown.) Inertia and socialist doctrine continue to support a closed economy. The entire point of the Cuban Revolution was to keep America out. Pivoting the island from central planning and state monopolies to an open economy engaged with the U.S. won't be easy.
When Obama revealed his secret negotiations, he said that "increased commerce is good for Americans and for Cubans" and specifically urged telecom companies "to sell goods that enable Cubans to communicate with the United States and other countries." The White House cited tourism, shipping, and app development as areas where U.S. companies were now free to seek deals.
There have been more than 500 corporate delegations in the subsequent 15 months, with little to show for the effort. "There are no success stories," says John Kavulich of the U.S.-Cuba Trade and Economic Council, a nonpartisan business-focused nonprofit in New York. One U.S. company—two men from Alabama—did sign a deal to assemble at the port of Mariel small tractors specially designed for Cuban cooperative farmers.
Cuba is playing the field, negotiating with American telecom executives on a trade visit, then buying the equipment cheaply from China. Cuba asked for bids from U.S. companies on rewiring the tourist-centric zone of Old Havana. It then hired a Chinese company. And it's not just China, already a trade partner, that Havana has turned to. When U.S. tourism companies came calling, the European Union offered hundreds of millions of dollars in debt relief in exchange for renewing its deals running local resorts.
U.S. airlines don't have regularly scheduled flights to Cuba—and probably won't anytime soon. A civil aviation agreement in February has already stumbled over reciprocity: Allowing Cuba's aging, unsafe airliners into U.S. airports is problematic, especially since many are flown by Cuban air force pilots. And that licensed, authorized, widely reported done deal for a ferry to the island from Key West? Not happening. Carnival Cruise Line signed a memorandum with Cuba, outfitted and staffed a 704-passenger ship, and hinted that it could make Cuba the center of its entire Caribbean operations. The Cubans have stalled by not forming a corporate partner, have demanded from Carnival massive investments in their ports, and let deadlines for the first sailings float away.
From the Obamas' arrival to the Stones' departure, the capitalist invasion will likely produce a raft of new deals, signed declarations, and promises. Nothing will move quickly, however. "They're dragging their feet partly because they feel it's putting pressure on the U.S. to lift the embargo," says Timothy Ashby, an attorney and former deputy assistant secretary of hemispheric affairs who's negotiated with the Cubans recently for several U.S. corporations.
But the Cubans will come around at the last minute, Ashby believes, because the best partner they could ask for is leaving office in 10 months. "What Cuba wants is large-scale direct investment," he says. They need billions of dollars just to rebuild the port of Havana and want access to the World Bank for major infrastructure projects across the island. They want big American hotel companies to operate and invest in Cuba. "They're keen on branded," Ashby says. "They want Marriott and American Airlines."
The Cuban leadership, under Raúl Castro's direction, appears to be looking for a way it can attract U.S. and foreign investment and still keep its brand of socialism—probably borrowing Vietnamese-style private capitalism and strict political control. Kavulich says Raúl will surrender as little as possible but will ultimately have to change the country to survive.
For now, economic reforms on the island allow small businesses—repairmen and restaurants, for example—to exist. That's not going to be enough to help the millions of Cubans who remain essentially unemployed. Cuban Americans have been pouring money into the island, investing in their cousins, and Kavulich estimates that Raúl will push the majority of workers into the private sector within a few years. That transition will be more efficiently done with American business involvement than without.
Normalizing relations with Cuba was never predicated on "we do X, you do Y," says Ben Rhodes, the deputy national security adviser who led the Americans in the secret talks that resulted first in reopening embassies, then to changes in parts of the U.S. trade embargo, and now to the chance for a presidential drop-by at the legendary El Floridita bar for a daiquiri. In an interview marking the December anniversary of Obama's announcement, Rhodes spelled out the president's policy in greater detail. The American goal is to effect "greater engagement between the Cuban people, the U.S., and the rest of the world, greater commercial activity that improves lives, empowered by more information. By definition, over time that is going to have an effect in terms of the state of democracy in Cuba."
As the Castro regime tries to figure out the speed and depth of reform and engagement with its huge capitalist neighbor, the U.S. government can do little things to encourage trade, such as approve imports of Cuban cigars, coffee, tropical fruits, and agricultural products. So far, little of that has been done. "Normalization connotes bilateral trade," says Robert Muse, an attorney who's lobbied for Cuban brands. "Where are the U.S. rule changes to permit imports from Cuba?" There may be one harbinger: the surprise decision by the Treasury Department to grant a license to import Havana Club rum, which my research has affirmed to be of peerless quality.
Until Congress lifts the entire embargo, modest commercial steps may be the most effective way that trade can help bring about change in Cuba. Fidel Castro famously said that history will absolve him; if given the chance, capitalism may dissolve him. A Cuban loyalist and former revolutionary fighter told me back in 1991, "The day the embargo ends, we are done for."
(
Corrects "trade missions" to "corporate delegations" in the seventh paragraph.
)
Before it's here, it's on the Bloomberg Terminal.
LEARN MORE