business
The Kremlin Doesn't Think Trump's Putin/Clinton Ad Is Funny
By
Kremlin `negative' about Republican's video, Peskov says

Criticizing Russia `mandatory' in U.S. elections, Kremlin says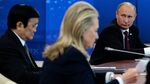 The Kremlin criticized a video posted by the Republican U.S. presidential front-runner Donald Trump's campaign that mocks the Democratic Party's leading contender Hillary Clinton as too weak to deal with Russian President Vladimir Putin.
The video posted on Trump's Instagram account opens with Putin in a judo suit throwing an opponent before cutting to him laughing after a segment that shows Clinton barking like a dog. The ad, which also features a jihadi terrorist, says the U.S. doesn't "need to be a punchline" when facing its "toughest opponents" before urging voters to support Trump and "make America great again!"
While he doesn't know if Putin's seen the ad, "we are negative about it," Kremlin spokesman Dmitry Peskov told reporters Thursday on a conference call. "It's not a secret for us that demonization of Russia is, sadly, a mandatory feature of the American election campaign."
Putin has praised Trump's emergence as a contender to succeed Barack Obama in the White House, calling him the "absolute leader" in the presidential contest and a "very colorful character and talented" at his annual press conference in Moscow in December. Putin also said Trump wants the U.S. to have "closer and deeper ties" with Russia and "how couldn't we welcome that?"
Clinton barked in imitation of a dog as part an attack on the Republicans for comments about the causes of the financial crisis during a speech to supporters in Nevada last month.
Before it's here, it's on the Bloomberg Terminal.
LEARN MORE