The Real Meaning of Xi's Favored Slogan
Reform and party discipline are dominant themes.
By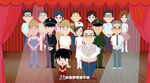 "Have you heard of the Four Comprehensives?" a kindly-looking man asks a pigtailed girl with huge eyes, in a cartoon video released by China's official Xinhua News Agency on Feb. 2. "Is it something to do with the Chinese Dream?" she responds. "Ha-ha, well, let me tell you," he says, before launching into an explanatory rap while they walk through a psychedelic landscape, complete with a swinging monkey, tigers in cages, rocket ships, hot air balloons, and backup disco dancers including a nurse, farmer, construction worker, and soldier.
The Four Comprehensives—promoting prosperity, deepening reforms, strengthening rule of law, and stressing party discipline—are President Xi Jinping's contribution to a tradition of Communist Party leaders coining slogans. Deng Xiaoping popularized the Four Modernizations, and later came up with Deng Xiaoping Theory; former President Jiang Zemin gave China the Three Represents. During the National People's Congress, the Four Comprehensives were cited—alongside the slogans of Deng, Jiang, and former President Hu Jintao—by Premier Li Keqiang when he gave the annual report on the state of the country on March 5.
After leaders "come to power, the slogans become very important in policymaking," says Ding Xueliang, a professor of social science at the Hong Kong University of Science & Technology. "And every leader tries to come up with his trademark to show he belongs at the top." As Sun Yinhuan, vice chairman of the All-China Federation of Industry and Commerce, said in a news conference in Beijing on March 11, "It clearly points the way for the future direction we should take."

The Four Comprehensives take on China's biggest economic and political questions. At the same time, they reflect tensions in the party and society. Achieving moderate prosperity is a sensible goal. But in China that means a continued fixation on excessively rapid growth, with ever higher debt and zombie companies the cost. Reforms, as Xi sees them, mean more support for state-owned companies, not less, says Willy Lam, a professor at the Chinese University of Hong Kong and author of Chinese Politics in the Era of Xi Jinping.
There are legitimate efforts to improve the legal system. But with Xi fixated on ideological control, deepening the rule of law also means smothering dissent, says Kristin Shi-Kupfer, head of research for politics, society, and media at the Berlin-based Mercator Institute for China Studies. Promoting party discipline, she says, includes both the crackdown on corruption and the silencing of members who think Xi has gone too far in censoring opposing views.
Shortly after taking power in 2012, Xi introduced the "Chinese Dream" of national rejuvenation and a better life for all. Lately he seems to have favored the Four Comprehensives instead. Another slogan, "Xi political economics," is being promoted: It's a grab bag of all of his theories on the economy and politics.
Xi needs to cement his authority before next year's National Congress of the Communist Party of China, a twice-a-decade assembly where top party members are replaced. "Xi's PR people are building up his personality cult in preparation for the 19th Party Congress, where presumably he will appoint more of his people into the central committee and politburo," says Lam. The true meaning is that all policies must "reflect the leadership of the party and the top position of Xi Jinping," he adds. "That is [the slogan's true] meaning." If Xi is successful, the Four Comprehensives could be enshrined in the party constitution when he most likely steps aside as party leader in 2022.
The bottom line: The Four Comprehensives could help the Chinese president consolidate power before the Party Congress.
Before it's here, it's on the Bloomberg Terminal.
LEARN MORE