Canada Said to Be Close to Bombardier Deal as Trudeau Lauds Jet
By and
Prime minister calls aircraft line 'fabulous in all ways'

Government hopes to make aid announcement soon, official says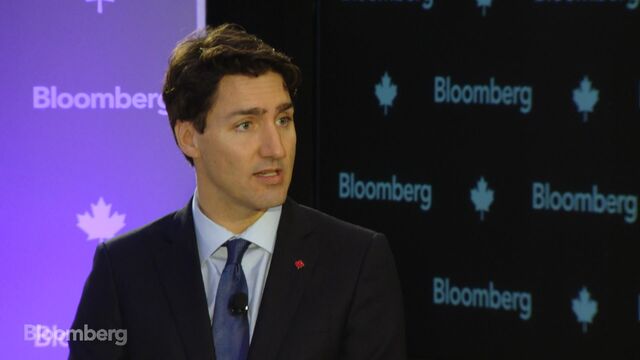 The Canadian government will ultimately do something to help struggling jetmaker Bombardier Inc. and expects to make an announcement on aid soon, according to a government official.
The official, who spoke on condition of anonymity, said the deal may still be delayed. The official didn't specify the factors that could push back an announcement.
Quebec's provincial government has committed $1 billion for a minority stake in Bombardier's C Series program and wants the federal government to do the same. Since taking office in November, Prime Minister Justin Trudeau has been under pressure to make a decision.
"We will answer when we have the right answer to give," Trudeau said in an interview Thursday in New York. "We are taking our time in a deliberate and thoughtful way to make sure we're doing the right thing in the interest of the Canadian industry."
The government has "a responsibility towards taxpayers to get the opportunity cost right," he said.
Trudeau, speaking in an interview with Bloomberg Editor-In-Chief John Micklethwait, reiterated his praise for the C Series jet, which has struggled to win orders from most of the world's biggest carriers.
"The C Series aircraft has been lauded as an extraordinary airplane," the prime minister said. "Really, it is more efficient -- more fabulous in all ways -- than just about any other plane on the market. Canadian aerospace and Bombardier itself has a bright future."
Shares of Bombardier have plunged almost 50 percent in the past year, dipping below C$1 ($0.77) last month as investors lost patience over delays and cost overruns in the Montreal-based firm's marquee-jet project. The stock rose 4.8 percent to C$1.20 at 1:06 p.m. in Toronto.

Governments have long supported the aerospace sector and Canada wants to ensure its industry remains strong for decades to come, Trudeau said. The government has hired U.S. investment bank Morgan Stanley to analyze a potential deal with Bombardier, the Globe and Mail newspaper reported Wednesday, citing unidentified sources.
"From Boeing to Airbus and Embraer, all the big aircraft companies around the world have always needed significant government support," he said. "How do we continue to make sure the high-quality jobs and innovative solutions put forward by our aerospace industry are there for the long haul?"
Bombardier spokeswoman Isabelle Rondeau declined to comment Thursday.