Brotailers Are Redefining How Guys Buy Clothes
Is that a new e-commerce strategy in your shorts? Or are you just happy to see me?
By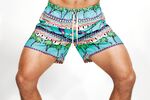 On a cloudless, 70F February morning in San Francisco, wild parrots fly from branch to branch on Telegraph Hill, and on the exposed, winding Filbert Street steps below, an adult man is dressed in a gorilla suit, throwing empty plastic water jugs at a half-dozen costumed grown-ups. For safety, they've put on red helmets, an "M" above the brim. Some have fake mustaches; others have real ones. They're all wearing shorts.
Inside the gorilla suit is Grant Marek, editorial director of Chubbies, retailer of brightly colored shorts with thigh-baring hemlines—motto: "Sky's out. Thighs out"—and producer of extremely popular online re-creations of retro video games. Today, Marek and his fellow Chubbies staffers, modern-day Marios, are shooting a real-life version of the Nintendo classic Donkey Kong. The video's shaky camerawork—a generous term, given the use of GoPros and selfie sticks—and near-absence of product close-ups would get an F in Commercial Directing 101, but the Chubtendo squad doesn't care.
In January company members reenacted the racing game Mario Kart, filming themselves riding small plastic scooters down the city's twisty Lombard Street. More than 24 million people have watched it, and typical Facebook comments include "Holy s---, this is hilarious" and "This would be so much fun drunk!" Which is exactly the reaction Chubbies expects. "We started making things for our friends," says co-founder Kyle Hency, 31. "That's still the guiding light for what we do."
Chubbies—yes, the name refers to exactly what a 16-year-old boy thinks it does—is a leader in a new kind of menswear retail that appeals to a different breed of customer. He's not the rumpled office drone who wants nine suits for the price of one at Jos. A. Bank or the tidy, tailored aesthete who favors J.Crew. Rather, he's the id-driven, post-collegiate twentysomething bro, the dude who might call his friend Broseph Stalin and eat a bag of brotato chips. The recipe for this guy is pretty straightforward: Take two measures bottom-of-your-prep-school class, add one measure earnest goofball, stir, and garnish with a lacrosse stick. But the way to build a business around him isn't as clear. This is a group who hates shopping and would happily wear the same pair of sweatpants every day if society didn't frown upon it. So how do you get these guys to buy clothes? This is where Chubbies and its peers come in. Call them the brotailers.

Brotailers are companies such as Criquet ($75 cotton golf shirts with names like You're My Boy Blue, a reference to the movie Old School), Birddogs ($55 athletic shorts called the Thrusters that come with built-in underwear), and Untuckit ($98 tailless shirts such as the Cote de Beaune that are meant to drape over the belt). They tend to make one product, which they sell primarily online via websites that also feature articles about "How to Pump the Brakes on a Relationship" and "How to Pitch a Tent When You're Not Camping."
These companies aren't the first to use the Internet to sell clothing and accessories to men. In addition to major retailers, Jack Spade (urbane bags), Harry's (German-made razors), Jack Erwin (dress shoes), and Bonobos (chinos and jeans) have all gone after young urban professionals. But what sets apart brotailers in this ecosystem is that they're more a mirror than an ideal. You don't shop at Chubbies because you want to look like the guy in the photos; you shop there because you already do.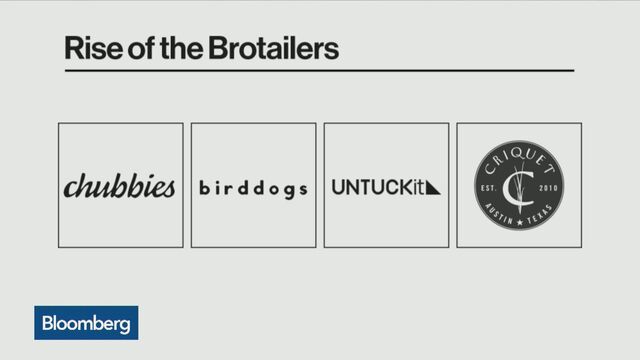 Many brotailers share an origin story: A group of friends finish college and get jobs in résumé-building industries like finance and technology. All's well, but the jobs are boring, and they're working for the weekend. Eventually they hear the siren song of the startup and venture capital money. "We were graduating school in a time where the job market was a bit tumultuous," says Chubbies co-founder Tom Montgomery, 30, referring to the post-financial-crisis years of the late 2000s. Montgomery, Hency, and co-founders Rainer Castillo, 31, and Preston Rutherford, 30, were all newly minted Stanford graduates pursuing careers in banking and business development. Castillo is the only retailer of the bunch, having worked in corporate jobs at the Gap and Levi's. "On the weekends, when it was nice out, the uniform all of us naturally settled into was a pair of shorts that were handed down from our dads," Montgomery says. "They were the hallmark of all of our best days and our best weekends." Married to this sun-dappled nostalgia was a keen business sense. They could make a name for themselves, they thought, by going against the knee-length board-shorts trend dominating men's retail at the time. Theirs would be less Hawaii Five-O remake and more Hawaii Five-O original.
In 2011 the four of them quit their jobs and started selling shorts out of a backpack as they walked the beaches around San Francisco. "People would ask, 'Where'd you get those shorts?' The response was just incredible," Montgomery says. Since then, Chubbies has added swim trunks and collared shirts to its inventory—garments that are "symbolic of a certain freedom and emotion the weekend brings you," he says. Along the way, Chubbies has also added more than $13 million in venture capital funding from firms including IDG Ventures, Burch Creative Capital, and Lerer Hippeau Ventures, which believe in the selling power of shorts with names like the Khakmeisters ($49.50) and the Great Chillerinos ($39.50). There's also the Schwort ($34.50), shorts made out of sweatpants material that's marketed with the following description, punctuation be damned: "We'd equate it to swaddling your thighs in a gel-infused down microfiber fleece lamb's wool comforter as you melt into the cushions of a tempurpedic vibrating reclining couch while simultaneously receiving a Swedish massage as you watch 10 straight hours of NFL football while being served platters of tiny cheese cubes."
The late 2000s may have been an anxious period for corporate America, but it was a good time to think about an apparel startup—particularly one focused on laid-back men's clothing. For starters, the demographics were, and still are, favorable. In 1975 the average man got married at 24, according to the U.S. Census Bureau. Today it's 29. Birddogs' target customer is 25, says founder Peter Baldwin: "He's got discretionary income, he's got to buy clothes, and he doesn't have a wife to do it for him."
In the past five years, says market researcher IBISWorld, menswear has been the fastest-growing product category sold online, outpacing groceries, shoes, and electronics. When TheBoutique@Ogilvy, a fashion PR agency, surveyed adult men in January, 53 percent described their style as "basic bro" vs. "practical," "professional," or "rugged." Although many guys still affect a preppy look, they're not going to Brooks Brothers to get it. "If you're trying to reach young men," says Ty Montague, chief executive officer of consulting firm Co:Collective, "adopt the tone and manner of young men, which is by nature irreverent." The brotailers have raided Dad's and Granddad's closets and jettisoned the pretense older brands relied on. It's less high-cheekboned bon vivant on a pheasant hunt, more dad-bod with a can of Tecate.
What brotailers offer is more than just a retail experience. "It's almost like these brands are creating safe spaces where dudes can be dudes," says Heidi Hackemer, founder of marketing agency Wolf & Wilhelmine. This isn't necessarily a positive thing. "We're in this really weird phase of masculinity, where all the rules are shifting," she says. "Everyone is talking about women, and Beyoncé is, like, 'Go kill it, ladies,' and Sheryl Sandberg is leaning in, and guys don't really know how to move forward. You almost see this regression into a safe space, which is the bro cave. I don't think anyone has told the guys what they're supposed to do now."
Chubbies is happy to make suggestions to the citizens of Chubster Nation. Staffers sort through more than 1,000 photos a day that Chubbies die-hards submit through e-mail, Instagram, Facebook, and Twitter in the hopes that theirs will be reposted to the company's social media feeds. The pics provide instant product and marketing insight. "We're so empowered to see what the customer is doing," says Castillo, who dismisses the more ivory-tower methods apparel makers use to figure out the next big trend. "I don't need to shop the world to see that. I can see exactly what he's doing on my phone today."
The company also maintains a network of more than 300 "Chubbies Ambassadors," college students who promote the brand for free gear. On the ambassador application (or "chublication" as it were) Chubbies describes its ideal candidates as "bad*ss shorts aficionados in a sea of confused cargo and man-capri-wearing jabronies." Recently, Chubbies started mailing orders with a free set of vintage baseball cards and a note from Rutherford, along with his cell phone number. "We were all standing there 10 minutes before Preston walked down the aisle for his wedding," Castillo says, "and he gets this call, and he answers it. He says, 'Hey, man, I'm about to get married, so I'm going to need to call you back a little bit later.' "
Business is good. In 2015, Chubbies saw a revenue gain of 50 percent from 2014, and the company says it's on a similar pace this year. There are plans to start making women's shorts (both product directors are women), golfwear, and, possibly, child sizes. "We're seeing a lot more dads among our customers," says Chubbies public-relations chief Kit Garton. The standard operating procedure is to have as much fun as possible, share that fun with customers, and watch the orders for shorts come in. "We're trying to make our friends laugh, bring a little bit of levity to their day," Rutherford says. It's not exactly hiring Bruce Weber to photograph Argentine polo star Nacho Figueras for a Ralph Lauren ad. At Chubbies, the big concern at an afternoon meeting is how many Nerf guns they'll need for an American Gladiators tribute video they're planning.
Before it's here, it's on the Bloomberg Terminal.
LEARN MORE