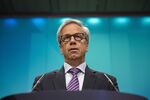 Destruction.
That's what awaits Norway's tiny government bond market if its central bank decides to use quantitative easing to stimulate the oil-reliant economy, according to DNB, the nation's biggest bank.
No wonder then that its central bank governor, Oeystein Olsen, said he and his colleagues are not considering snapping up government bonds to add stimulus as it fights to avoid a recession. Instead, Olsen on Thursday for the first time publicly conceded the bank could very well have to lower rates below zero.
"So far the executive board has not considered other measures other than the interest rate," he said in an interview after cutting rates to a record low of 0.5 percent. "We have followed for some time the measures taken by other countries. It's an important signal from me that even though the rate is coming down, the board has not considered using other measures."



Quantitative easing, which has been unveiled by central banks around the globe, would be hard to pull off. Norway has an $850 billion sovereign wealth fund, a backstop that means the nation has a limited need to issue bonds. That has left the level of outstanding debt potentially too small for purchases.
"Quantitative easing in Norway would be very difficult," said Kyrre Aamdal, senior economist at DNB ASA in Oslo. "A large part of the government bonds here are owned by foreigners so if they purchase those from foreigners it might destroy the market for government bonds."
Aamdal says that while policy makers seem "skeptical" even of negative interest rates, QE would be last on their list of options because it would be so difficult to unwind.
The bank has cut rates four times since December 2014 as a 65 percent drop in Brent crude since a June 2014 stifles growth.
Norges Bank's Olsen said Thursday that "zero is not a lower-bound for Norway."
Another option as policy makers look for ways to provide relief to the economy could be to change the excess reserve regime, said Kari Due-Andresen, chief economist at Svenska Handelsbanken. That would only come if Norway reaches a floor in interest rates -- a quick guess on that is about minus 0.5 percent, she said.
"It's really hard to say what would come first," Due Andresen said. "I'm not sure how effective it would be."