BofA's Montag Gets Less Pay Than CEO Moynihan for First Time
by
COO's 2015 total compensation rises 11% to $15.5 million

Montag's pay had surpassed Moynihan's in five previous years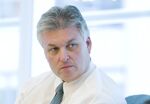 Bank of America Corp. Chief Operating Officer Thomas K. Montag was paid less than Chief Executive Officer Brian T. Moynihan last year for the first time. Montag was awarded $15.5 million, compared with Moynihan's $16 million.
Montag's compensation, an 11 percent increase from a year earlier, included $8.7 million in stock, a $5.8 million cash bonus and a $1 million salary, the Charlotte, North Carolina-based bank said Thursday in a filing.

Montag, 59, is the former Goldman Sachs Group Inc. trading head who runs Bank of America's investment-banking and markets divisions. He was the firm's highest-compensated executive in the previous five years as the lender leaned on his operations to support earnings while spending more than $60 billion to settle mortgage disputes. Profit from the global banking and global markets units, which Montag oversees, declined 8.3 percent in 2015 from a year earlier.
Bank of America boosted Moynihan's compensation 23 percent for last year, according to a February filing. The increase came after the CEO survived a battle with investors over whether he should be stripped of his role as chairman as the bank's stock lagged behind peers. Moynihan, 56, slashed expenses 24 percent last year, partly by putting some of the bank's biggest legal woes behind it.
Separately, the bank said Charles Gifford, 73, a former board chairman, is retiring as a director. He's scheduled to step down at the April 27 annual shareholders' meeting, according to the proxy.
Before it's here, it's on the Bloomberg Terminal.
LEARN MORE