Rizal Bank Executives Suspected in Bangladesh Heist Transfers
by , , and
``Things are slowly unfolding and there are new names coming"

Investigators seek hackers for trying to steal $1 billion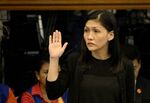 At least two other senior executives of Rizal Commercial Banking Corp. may have been involved in the transfer of $81 million stolen from Bangladesh's foreign reserves, according to the Philippine senator investigating the case.
Senator Teofisto Guingona made the allegation after a closed-door hearing with Maia Santos Deguito, the Rizal Bank branch manager who permitted the funds to be withdrawn. Deguito's testimony indicated that more prominent bank officials may have participated, Guingona told reporters after the hearing on Thursday.
It appears Deguito acted in error "but there are bigger persons behind this whole thing," Guingona said. "Things are slowly unfolding and there are new names coming out. It's getting deeper and both sides are firing missiles at each other. We have to make sure we get to the bottom of this."
Investigators are seeking to track down hackers who attempted to steal almost $1 billion from Bangladesh's central bank, a heist that cost the governor his job. While authorities blocked most of the illicit transfers, almost all of the $81 million withdrawn in the Philippines is still missing. Another $20 million sent to Sri Lanka was returned.
"Our internal investigation is still ongoing," Maria Celia Estavillo, Rizal Bank's head of legal and regulatory affairs, said in a statement sent by the spokesman. "Definitely we will sanction anybody found to be culpable within the bank."
Deguito has e-mails, mobile-phone messages and other evidence showing she was acting on orders from her superiors when she allowed the transfer of the funds through her Makati City branch, her lawyer Ferdinand Topacio said in a radio interview before the hearing.
Rizal Bank disputed her account at a public portion of the hearing. Deguito falsified bank accounts and facilitated the withdrawals despite receiving a request from Bangladesh to halt the transactions, Estavillo told lawmakers at the hearing. The bank is investigating allegations of negligence by other employees, Estavillo said.
Casino Operator
The Philippines' Anti-Money Laundering Council has said Deguito permitted the funds to be withdrawn on Feb. 5 and Feb. 9. The agency filed a complaint against Deguito for alleged money laundering before the Justice Department. Charges against others will follow, Julia Abad, its executive director, said at the hearing.
Bangladesh is now sure the stolen funds were sent to the Philippines, the South Asian country's ambassador to the Philippines John Gomes told reporters.
"I definitely want the money to be traced out so that we can get back our money," he said.
Before it's here, it's on the Bloomberg Terminal.
LEARN MORE