Bank Stocks Paying Price for Fed Dots Show Limits on S&P Bulls
by and
Financials are becoming biggest drag on S&P 500 advance

Concern about lending profitability again rears its head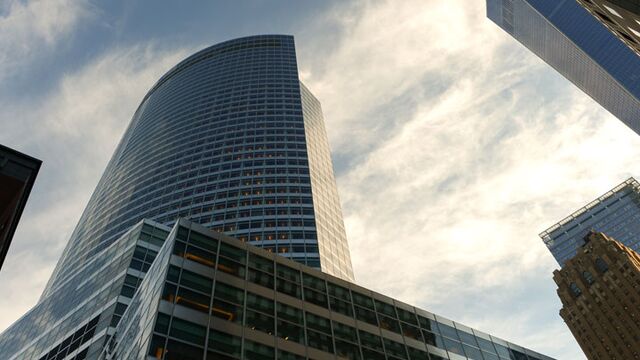 Before this year, bank stocks were the second-biggest driver of the rally that added $14 trillion to American share prices since 2009. They're rapidly becoming the biggest drag, pummeled every time the Federal Reserve signals dovishness.
That's a problem for equity bulls who over seven years grew accustomed to harmonized advances in the Standard & Poor's 500 Index whenever the market got a whiff of stimulus. Cracks are forming in the monolith: financial companies were one of only two industries to fall yesterday after Fed officials scaled back forecasts for hikes.

In a market where equity volatility has doubled from 2015, banks are supplanting energy producers as investors' biggest headache. Battered by speculation that low interest rates will put a lid on lending profits, their 6.7 percent tumble this year is single-handedly preventing the S&P 500 from erasing its year-to-date decline.
"As the probability of rate hikes deteriorated from four to three to two, so too there goes those positive expectations for financials," said Stephen Wood, who helps manage $237 billion as chief market strategist for North America at Russell Investments in New York.
Losses in banks have shaved 22.1 points from the S&P 500 in 2016, more than any other industry, led by declines of 16 percent or more in Goldman Sachs Group Inc., Citigroup Inc. and Bank of America Corp. The group traded for less than 1.2 times book value at its low in February, the cheapest valuation since 2013.
Earnings sentiment is deteriorating at the fastest pace in three years, as the largest banks deal with declining revenue from investment banking and trading in addition to tighter lending margins. Analysts cut their estimates for first-quarter profit among lenders to a decline of 10 percent, after projecting an increase of 2.5 percent in September. For the full year, the growth forecast has fallen to 2.8 percent from 9.4 percent six months ago.
Financial firms slipped 0.2 percent Wednesday after the Fed's dot-plot summary of economic forecasts showed a median expectation for the fed funds rate at 0.875 percent at year end. That implies two quarter-point increases this year, down from four forecast in December.
"This is a Fed that's expressing a bias toward easier money for longer," said Jeff Korzenik, the Chicago-based chief investment strategist at Fifth Third Bancorp, which oversees $26 billion. "It's just a constant sense of disappointment for financials at both the pace of the tightening and the flattening of the yield curve."
Financial firms plunged 3.4 percent on Feb. 10-11 as Yellen signaled in testimony to Congress that turmoil in global equity markets could elongate the schedule for raising interest rates. The group has been a source of volatility all year for American investors, plunging 9 percent in January, almost twice as much as the S&P 500. In a market where moves in the S&P 500 are averaging 1 percent a day, bank stocks are swinging more -- almost 1.2 percent.
Financial companies in the S&P 500 entered a bear market on Feb. 8 before falling to the lowest since 2013 three days later. Every company in the 90-member group of stocks trades below its one-year high, with the average stock down by 8.7 since the index reached a high on July 22.
While anxiety about banks' exposure to the energy sector has decreased as the bond market firmed and crude advanced, Wednesday's Fed announcement fanned concerns about lending, where rising interest rates correlate to higher profitability, according to Jason Pride, the Philadelphia-based director of investment strategy at Glenmede, which oversees $30 billion.
"An upward sloping interest-rate path is good for banks because it allows them to widen out their interest margin," Pride said. "But we're now in one of these environments where that path is coming in a little weaker than was originally expected, so bank stocks have felt that as a pressure."
Before it's here, it's on the Bloomberg Terminal.
LEARN MORE