Australia's Unemployment Drops to 5.8% as Participation Declines
by
Fall in unemployment mirrors drop in people hunting for work

RBA has said labor market will be a key indicator for policy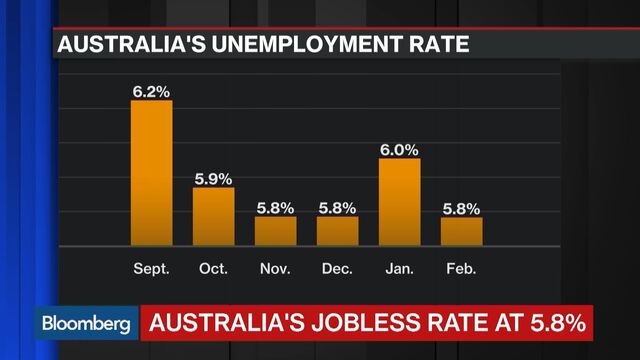 Australia's jobless rate unexpectedly declined in February as fewer people searched for work, suggesting the central bank is likely to keep interest rates on hold as it gauges the strength of a flat-lining labor market.
Employment rose 300 from January; economists forecast 13,500 gain
Unemployment fell to 5.8% from 6%; economists predicted no change at 6%
Full-time jobs jumped by 15,900; part-time employment dropped by 15,600
Participation rate, a measure of labor force as a share of population, fell to 64.9% from a revised 65.1%; economists predicted 65.2%
"Employment hasn't increased at all over the past three months," said Paul Dales, chief economist for Australia and New Zealand at Capital Economics. "That said, the lingering concerns over the accuracy of the labor force survey and the fall back in the unemployment rate to 5.8 percent from 6 percent, means the RBA won't be too concerned."

Australia recorded a surge in jobs in October and November, though the scale of the increases brought renewed skepticism about the accuracy of the labor force data, which the Australian Bureau of Statistics has acknowledged in the past. At the same time, data this month showed the economy grew a strong 3 percent in the final quarter of last year, suggesting there was at least some signal in the jobs reports.
The local dollar gyrated after Thursday's release before climbing and traded at 75.93 U.S. cents at 12:33 p.m. in Sydney, from 75.64 cents before the data was released.
Rate Cuts
The nation is grappling with the fallout from plunging prices of its key commodity exports as Chinese demand eases and newly-opened mines boost supply. The central bank, which has cut rates by 2.75 percentage points since late 2011, is banking on improving consumer confidence to spur spending and encourage business investment.
 
Macquarie Group said last month that it's hiring about 400 staff to manage the recently acquired Esanda dealer finance business.
Before it's here, it's on the Bloomberg Terminal.
LEARN MORE