Apple Raises Billions in Debt Market While Some Are Left in Cold
by , , and
Some offerings getting pulled even as big deals sell

"You don't just follow yield," said U.S. Bank analyst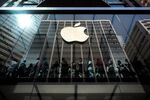 Debt investors are buying again, but they're not buying everything.
Corporate bond issuance has jumped this month, as the European Central Bank expanded its stimulus plans to include buying companies' debt, and the Federal Reserve scaled back its expected pace for lifting interest rates. Apple Inc. sold $3.5 billion of bonds on Thursday just one month after issuing $12 billion of debt. Brewing giant Anheuser-Busch InBev NV sold 13.5 billion euros ($15.3 billion) of notes on Wednesday in that market's biggest-ever sale.
It's a very different market for some companies. Trac Intermodal LLC, a truck-equipment leasing company, recently pulled a U.S. junk bond sale. Investors balked at a deal whose main purpose was to fund a dividend to private equity owner Fortress Investment Group. In Europe, Australian toll-road operator Transurban Group and German lender L-Bank canceled bond sales on Tuesday. The cool reception that some issuers are facing underscores that investors are still thinking about a possible market drop even as prices recover, and that not all companies are benefiting equally from the recent rally.
"The biggest lesson learned from last year's pain was that you don't just follow yield," said Jennifer Vail, head of fixed-income research at Minneapolis-based U.S. Bank Wealth Management, which oversees $112 billion.
"When you have huge losses in a bond investment over the course of a year it tends to reshape your thought process," she added.
Reasons for Concern
The U.S. economy has thrown up some reasons for concern in recent weeks. Retail sales fell in February by 0.1 percent, after declining by 0.4 percent in January, a report this week said. Capacity utilization at U.S. factories fell to 76.7 percent in February from 77.1 percent the prior month. It has been trending downward since the end of 2014. Both the Federal Reserve and economists surveyed by Bloomberg have scaled back their expectations for 2016 growth.
Companies have sold just $28 billion of speculative-grade bonds so far this year, the worst start to a year since 2009, when the financial crisis was raging. In the same period in 2015, non-investment-grade issuers sold three times as much debt.

In recent weeks, junk bond returns have risen, as oil and the stock market rallied. Money managers are still cautious about the riskiest junk debt. Borrowing costs for companies in the lowest rated parts of the market are close to their six-year high of about 22 percent reached in mid-February. The debt is yielding about 13 percentage points more than top-rated junk bonds, close to the biggest gap since 2009 and about twice the average of the last 10 years, according to Bank of America Merrill Lynch Index data.
"The market has become extremely bifurcated into the have's and have not's," said Rick Rieder, chief investment officer of fundamental fixed income at BlackRock, which manages $1.1 trillion.
Investors have also demanded stricter borrowing terms from companies. Solera Holdings Inc. sold $1.73 billion of bonds late last month, down from the $2 billion it aimed for last month. That deal included more protections for lenders, including tougher limits on the company's ability to take on more debt. 
"Pendulum Swings"
"It's about who's more in the driver's seat," said Thomas Stolberg, a Boston-based portfolio manager at Loomis Sayles & Co. "The pendulum swings back to the buy side to be able to ask for and get more protections when the outlook isn't as robust."
Investors in Europe have also been cautious. L-Bank postponed an offering due to "competing supply," Royal Bank of Canada, one of the deal managers, said in a statement on Tuesday. It will wait for better conditions, said Peter Kiessling, from the funding management unit of L-Bank, or Landeskreditbank Baden-Wuerttemberg Foerderbank.
Transurban decided not to proceed with its 500 million euro offering of notes whose proceeds were to be used for refinancing "because soon after the launch, market conditions weakened," said Jessica O'Brien, the firm's Melbourne-based investor relations manager. "Whilst the order book was covered, we have over 15 months to complete the refinance of this facility and decided to wait for more favorable market conditions."
"There is undoubtedly still appetite out there for the right deals, but this isn't early 2015 and the market is much more selective," said Paul Suter, a London-based fixed-income trader at ECM Asset Management, which manages 5 billion euros of assets.
Other markets also reflect investor caution. Gold is surging, and utility stocks, often seen as defensive, have risen more than 10 percent this year, while the broad Standard & Poor's 500 index is essentially unchanged.
"There is a level of prudence that has returned," said Marvin Loh, senior fixed-income strategist at BNY Mellon Global Markets. "The amount of uncertainty is astonishing."
Before it's here, it's on the Bloomberg Terminal.
LEARN MORE