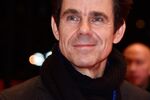 In a wooded area just outside Berlin, excavators rumble across the sandy soil, and the sound of hammering fills the air as workers clamber up five-story-high building facades. This is Babelsberg, the studio at the heart of Germany's film industry, which is building a $13 million outdoor set that stretches across an area the size of two football fields. Called Neue Berliner Strasse—New Berlin Street—it will be home to Babylon Berlin, a 12-episode TV series about the decadent final years before Hitler rose to power that's scheduled to start shooting in April. Produced by Britain's Sky and German broadcaster ARD and directed by Tom Tykwer, creator of the 1998 hit film Run Lola Run, "the project is of a scale unlike anything Germany has seen before," says Elke Walthelm, who heads Sky's German content business.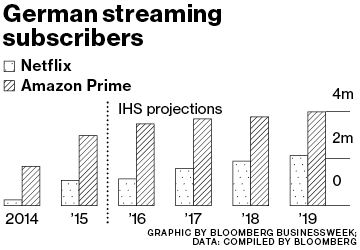 Germany is becoming the focal point in the battle for the European pay-TV market—delivered via methods such as cable, satellite, and streaming—which researcher IHS expects to grow to $58 billion in 2019, from $44 billion last year. Sky has boosted spending on original fare and allied with HBO and Showtime to distribute its shows, and Internet-based newcomers are wooing customers with local-language productions. Amazon.com in February said it's hiring popular German actor Matthias Schweighöfer to direct and star in its first original series produced outside the U.S., a hacking thriller set in Berlin called Wanted. Two weeks later, Netflix announced its first German project, Dark, a supernatural series that will be directed by Switzerland's Baran bo Odar, whose thriller Who Am I was a box-office hit in Germany. "Our U.S. original content travels well, but there is great TV being made in many countries," says Jonathan Friedland, chief communications officer for Netflix.
Local content is important as the companies seek to expand internationally. Netflix in May will air Marseille, a French political drama starring Gérard Depardieu, and it's working on an Italian crime series called Suburra that's set to air next year. Sky has shot several shows in Italian, including Gomorrah, another crime drama, now in its second season. Local-language programming resonates with European audiences and is often more popular with advertisers than imported shows—as seen in the success of Scandinavian dramas such as The Bridge and The Killing, says Neil Campling, a media analyst with Aviate Global in London. "But there's also a higher degree of risk, since you have to believe local content will translate into global appeal," he says.
As Netflix and Amazon seek a bigger share of the European market, they're coming up against powerful incumbents such as France's Canal Plus, with 15 million subscribers, and Sky, with 21 million and an extensive lineup of soccer, rugby, and other sports programming it's spent billions of pounds assembling. And HBO, with channels in 15 countries, said in February it's looking for Scandinavian productions. Another challenge for the streaming services: high-quality content produced by well-funded public broadcasters. While 90 percent of American homes have pay-TV subscriptions, only about 30 percent of German households and two-thirds of those in the U.K. do. Those who pay can choose from a variety of Netflix-like streaming services, such as Sky's Now TV and Maxdome in Germany.
The advantage Netflix and Amazon bring is their relatively modest price: In Germany, Netflix starts at €7.99 ($8.87) a month; Amazon Prime is €49 per year, which also includes music streaming and free shipping for purchases from its Web store. Cable TV, by contrast, can run from €20 to €100 monthly, though the more expensive packages typically include Internet. Netflix has joined with cable and telecom companies including Virgin Media in the U.K. and Deutsche Telekom in Germany to widen its reach in a "marriage of convenience," says IHS analyst Ted Hall. "Households are likely to spread their entertainment budgets across a variety of services."
The fight will be waged throughout Europe, but Germany is of particular importance as the region's largest and wealthiest economy. And there's plenty of room to grow: IHS says Netflix has 1 million subscribers in the country—just 7 percent of its total for Europe—and 3 million German households use Amazon's Prime video, about 7.7 percent of the country's homes with TVs, or a little more than half the penetration it has in the U.S. "For such a developed market, Germany was slow on the uptake," says IHS analyst Daniel Sutton. "TV wasn't something you pay for, it's something you get. That's changing, and people are more willing to pay for TV."
The bottom line: Netflix and Amazon, seeking a bigger share of Europe's $44 billion pay-TV market, are creating more local programming.
Before it's here, it's on the Bloomberg Terminal.
LEARN MORE