Ackman Says Valeant Is a Problem He Knows How to Handle
by
Hedge fund manager says no widespread investor redemptions

83% of investors able to redeem stayed in fund, Ackman says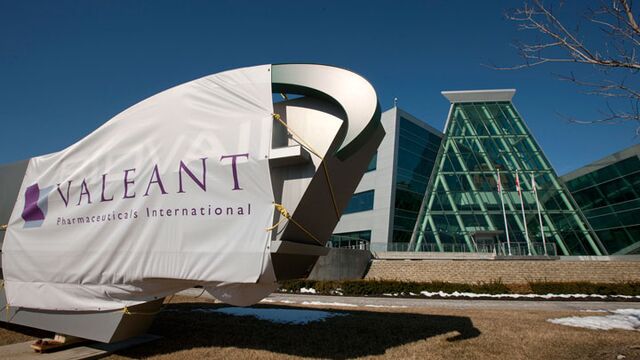 Activist investor Bill Ackman said drugmaker Valeant Pharmaceuticals International Inc. is a problem, but one that he knows how to handle.
CNBC reported the comments Thursday, citing an earlier interview. Valeant's stock fell 51 percent Tuesday after the drugmaker cut its 2016 guidance and warned it may breach some of its debt agreements if it can't file its annual report on time. Ackman's Pershing Square Capital Management lost about $764 million on the common shares it owns in the March 15 stock collapse.
Standard & Poor's said Thursday it may lower its ratings on the debt of Pershing Square Holdings Ltd., the publicly traded security of Ackman's activist hedge fund, because of the precipitous decline in Valeant's market value.
Ackman also told CNBC that widespread redemptions from Pershing Square weren't the case, and that just 2 percent of assets had been redeemed on Feb. 15, the most recent chance investors had to pull their money from the fund. On the same date, some 83 percent of investors chose to keep their money in the fund, he said. Their next chance to redeem will be in mid May.
He also said the fund didn't use margin leverage, CNBC reported. Trading on margin can leave an investor vulnerable to margin calls from the firm's broker.
Valeant Fallout
Criticism of Valeant's pricing and drug distribution methods began last year, with fallout ranging from restated earnings to a special board committee investigation of a relationship with a mail-order pharmacy.
Pershing Square, Valeant's third-biggest shareholder with a stake of about 9 percent, including 6.3 percent of the outstanding common shares, has pledged to take a much larger role at Valeant -- an effort that began last week when its vice chairman, Stephen Fraidin, joined Valeant's board.
On Wednesday, the publicly traded security of Ackman's hedge fund posted a loss of 26.4 percent this year through March 15. The firm also said Wednesday it sold 20 million shares of snack maker Mondelez International Inc., lowering its stake to 5.6 percent, "for portfolio management purposes only."
Before it's here, it's on the Bloomberg Terminal.
LEARN MORE