Yellen Defends Fed as 'Non-Partisan' Over Campaign Contributions
by
Fed staff free to make political donations under law, she says

Says decision on political giving is `up to each individual'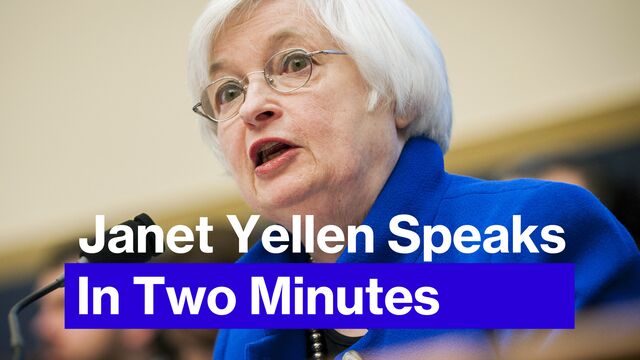 Federal Reserve Chair Janet Yellen said legal political campaign donations from central bank employees, including those of senior Fed officials, do not undermine its standing as a non-partisan agency.
"We are a non-partisan, independent institution devoted to pursuing our congressionally mandated objectives," Yellen said Wednesday in response to a question during a press conference in Washington. "I have never seen political views in any way influence the policy judgments that are made inside the Federal Reserve. I want to say that emphatically."
Yellen's remarks came after Bloomberg News reported that Governor Lael Brainard, appointed to a top Treasury post by President Barack Obama before she joined the Fed, gave $750 in three contributions to Democrat Hillary Clinton's presidential campaign between November and January. A wider review of campaign giving revealed that 79 percent of federal-level contributions from Fed staffers since November 2004 had gone to Democrats.
The Fed has come under heavy criticism from lawmakers in recent years, with some calling for heightened scrutiny of the central bank. The Fed has pushed back, making the case that monetary policy needs to be non-partisan and independent.
Yellen said Fed employees, like all federal government workers, are subject to restrictions on partisan political activity under the 1939 Hatch Act, but were free under the law to make political donations.
"It's up to each individual to decide what is appropriate," she said. "But the Federal Reserve is not a partisan political organization."
Yellen spoke to the media following the Federal Open Market Committee's two-day meeting, where policy makers left their benchmark interest rate unchanged and scaled back forecasts for how high rates will rise this year.
Before it's here, it's on the Bloomberg Terminal.
LEARN MORE