Longtime Redstone Ally Is Viacom's Lead Independent Director
by
Ex-Verizon executive's Redstone ties date to at least 1994

He's also on the board of CBS, another Redstone media property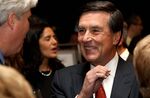 Viacom Inc., facing internal dissent and pressure from proxy advisers to improve its governance, elected long-time board member Frederic Salerno to be lead independent director, a new role at the entertainment company that owns Nickelodeon and MTV.
Salerno, 72, who has decades-long ties to controlling shareholder Sumner Redstone, will coordinate the activities of the independent directors and serve as liaison to Philippe Dauman, chairman and chief executive officer, the New York-based media company said Wednesday in a statement.
Dauman became Viacom's chairman last month after the resignation of Redstone, the 92-year-old billionaire who's in fragile health. He was elected with the backing of all but one director -- Redstone's daughter Shari, who called for an independent person to fill that role. Salerno's re-election to the board at this week's annual meeting was opposed by proxy advisers including Glass Lewis & Co.
"Fred has been a strong leader as a member of our board and his judgment, broad perspective and experience will serve him and the board well as he undertakes his new role as lead independent director," Dauman said in the statement.
Appointing an independent lead director is common when one executive serves as both chairman and CEO of a company, according to Mark Rogers, CEO of BoardProspects.com, which has helped filled spots at Hewlett-Packard Enterprise Co. and TiVo Inc.
Fresh Voice?
While Salerno is taking on that role, he is hardly a fresh voice.
Salerno has served as a director of Viacom since 1994, according to data compiled by Bloomberg, and has been on the board of CBS Corp. since 2007. He was on the transition committee that oversaw the 2006 split of the two companies, serving alongside Sumner Redstone, Shari Redstone and Dauman.
In an interview, Salerno said his job is to ensure all shareholders are treated fairly and uniformly, especially with the two top jobs consolidated under Dauman.
"It's a vital role that most corporate governance gurus will say should be done when you have a combined chair and CEO position," he said.
Length of Service
Salerno also defended Viacom management and said his length of service is no impediment to serving as an effective director. The company was hit harder by trends affecting the entire TV industry, such as the migration of viewers to the Internet, because its audience skews younger, he said.
"There are some issues associated with performance and ratings that Philippe and his management team are addressing," Salerno said. "They've turned around a lot of units in spite of the share price. We have great faith in management."
Glass Lewis in February called for Viacom shareholders to reject the re-election of five directors who serve on the compensation committee, including Salerno, because they haven't adequately aligned Dauman's pay with his performance. It was the second proxy adviser to reject the nominees. The company's CEO earned $54.2 million in fiscal 2015, a year when net income dropped 20 percent and the stock slumped 44 percent.
"To claim he's completely independent is a little bit disingenuous," Rogers said. "They could have avoided criticism if they appointed a real independent director. You could make the strong case that Salerno has been part of the problem."
Before it's here, it's on the Bloomberg Terminal.
LEARN MORE