Uber Reins In Dreaded Surge Fares During D.C. Subway Shutdown
by
Company limits surge pricing to 3.9 times normal in Washington

Riders complained in the past that it was exploiting crises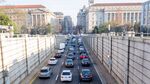 The one-day shutdown of Washington's subway gave ride-sharing service Uber Technologies Inc. a chance to pick up business -- and to show an influential crowd that it's learned a lesson about pricing.
Uber limited its surge prices to 3.9 times the normal fare for the duration of the subway outage that began Wednesday. The system, which has stops that bracket the U.S. Capitol, closed for safety inspections following a fire in a tunnel on Monday.
"There's a huge reputational aspect to this," said Nick Hayes, an analyst at Forrester Research Inc. in Cambridge, Massachusetts. Uber wants to be seen as pro-consumer and providing a good service, he said. "Trying to do the right thing for the city, trying to cap the surge pricing at a certain point, is the right decision."
The company, whose mobile application lets people book rides using their smartphones, uses a surge-pricing algorithm that automatically drives up prices when demand spikes.
Sydney Gunman
That's led to complaints of exploitation, such as in 2014 in Sydney, when demand spiked as a gunman held occupants in a cafe for about 7 hours. Or 2012 in New York, when Hurricane Sandy was bearing down.
As it turned out, the average price in Washington stayed at less than 1.7 times the normal fare during the morning rush as higher prices attracted more drivers to the road, Uber said in a blog post. The company said it wanted to "balance reliability with affordability."
That may have surprised some in Washington, where Uber charged as much as $34 for a 3-mile ride during subway turmoil last year.
"The surge pricing cap is just while the Metro service is out," Niki Christof, a spokeswoman for Uber, said in an e-mail.
Scrooge McDuck
The prospect of surge pricing prompted some cynicism in social media. "What's the Uber surge rate in DC this morning? x1000?" asked one Twitter user on Wednesday.
Another depicted the ride-sharing service as Scrooge McDuck, happily shoveling gold into a wheelbarrow.
Uber has capped prices before. In 2015 it limited prices in New York City to 2.8 times normal rates during a snow storm.
Competing ride-sharing service Lyft Inc. didn't cap prices in Washington on Wednesday, and prices didn't exceed double normal fares, communications manager Paige Thelen said in an e-mail.
Before it's here, it's on the Bloomberg Terminal.
LEARN MORE