Shire Falls as Valeant's Troubles Taint Specialty Drugmakers
by
Mallinckrodt, Allergan decline for second consecutive day

Specialty drug companies sell more expensive medicines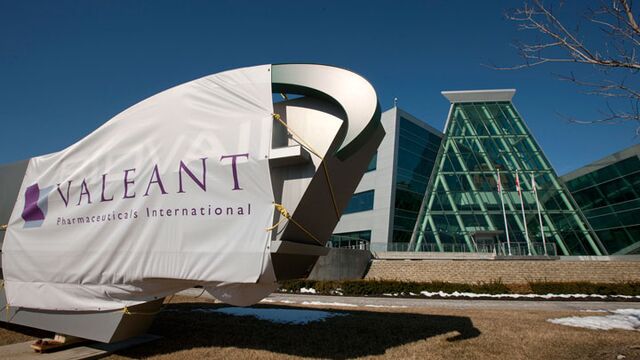 Shire Plc fell the most in a month as investors who pummeled Valeant Pharmaceuticals International Inc.'s stock yesterday shunned other specialty drugmakers.
Mallinckrodt Plc and Allergan Plc dropped for a second consecutive day after Valeant shares fell the most ever on Tuesday. The plunge came as Canada's Valeant cut its forecast for the year, issued a press release with a $600 million typo and held a conference call that left analysts and investors baffled.
Specialty drugmakers like Shire and Valeant sell medicines for diseases such as cancer and rheumatoid arthritis, which usually cost much more than pills for common conditions such as high blood pressure. Presidential candidate Hillary Clinton has made drug pricing one of the focal points of her campaign, criticizing Valeant in a television ad that started running last week. Valeant has also been the subject of regulatory and congressional investigations.
"You saw the specialty pharma sector got particularly badly hit with Valeant, and Shire ADS are trading down as well," said Peter Welford, an analyst at Jefferies in London, by phone. "So I suspect some of it is the follow-on from the weak U.S. performance in that sector."
'Unfairly Targeted'
Shares of Dublin-based Shire fell as much as 4.4 percent, the biggest decline since Feb. 8, and were down 3.1 percent at 2:33 p.m. in London. Mallinckrodt dropped as much as 14 percent after closing down 15 percent on Tuesday. Allergan fell as much as 2.3 percent following a decline of 3.4 percent on Tuesday.
Valeant's stock recovered slightly, rising 5.6 percent as of 10:32 a.m. in New York. Another specialty drugmaker, Endo International Plc, gained 12 percent after losing fell 23 percent on Tuesday.
A Bloomberg Intelligence analysis of price increases for 200 specialty pharma drugs found that Valeant is making the biggest, said Elizabeth Krutoholow, an analyst at Bloomberg Intelligence. The magnitude of Shire's price increases have been much smaller than Valeant's, she said.
"I think they're being a little unfairly targeted," she said of Shire. "People are looking at any drug that's a specialty product that is highly priced, and assuming there is going to be push back from the payers."
Like Valeant, Shire has been on an acquisition streak, most recently agreeing to purchase Baxalta Inc. for about $32 billion in cash and stock. Investors who are buying shares of Baxalta in a placing are also seeking to sell Shire shares as a hedge, pushing the price down, Olivetree Financial Ltd.'s Sebastian Greensmith said by phone. Baxalta announced the sale of $2.3 billion in shares, linked to a debt-for-equity swap by former parent company Baxter International Inc., on Tuesday.
Before it's here, it's on the Bloomberg Terminal.
LEARN MORE