Sequoia Vexed Anew by Valeant as Fund Plunges 7.7% in Single Day
by
Sequoia Fund fell to bottom of peer group after Tuesday's loss

Elected Tim Medley to its board following two departures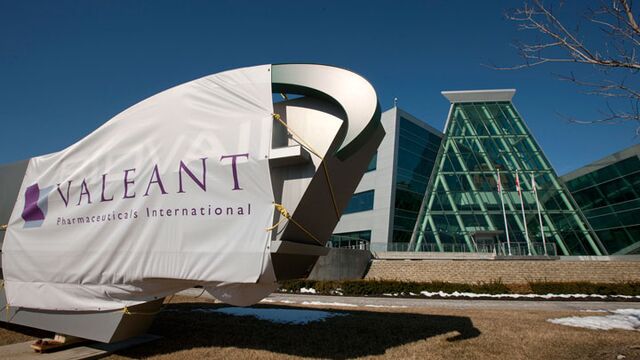 The Sequoia Fund, a famed mutual fund that slumped about 30 percent in the past seven months, was the biggest loser Tuesday among U.S. stock funds as its largest holding, beleaguered drugmaker Valeant Pharmaceuticals International Inc., suffered its worst day on record.
The fund, started 45 years ago by a friend of billionaire investor Warren Buffett and run by New York-based Ruane Cunniff & Goldfarb, declined 7.7 percent, the worst performer among 3,894 non-leveraged, U.S.-domiciled stock mutual funds tracked by Bloomberg. The loss pushed it to the bottom of its peer group for the past year and left it trailing 75 percent of similar funds over five years.
Sequoia Fund, which built one of the fund industry's best long-term records before Valeant started plunging in August, has faced client redemptions and internal dissent over the size of its Valeant wager. Ruane Cunniff stepped up its Valeant bet in the fourth quarter, buying an additional 1.45 million shares, only to watch the once-hot stock sink this year to fresh lows. The move came after two other independent fund directors -- Vinod Ahooja and Sharon Osberg, who is a bridge partner of Buffett's -- resigned in October after the fund's Valeant stake ballooned to more than a quarter of its assets.
The fund, which had $6.2 billion in assets as of March 11, on Monday elected Tim Medley, a managing partner at investment advisory firm Medley & Brown in Jackson, Mississippi, to its board.
"I'm delighted to be elected to the board," Medley said in a phone interview Tuesday. "This is a terrific mutual fund."
Record Decline
Medley declined to comment further on the fund's performance or holdings. A message left with Ruane Cunniff wasn't returned.
Ruane Cunniff was Valeant's largest shareholder, with 10 percent of the outstanding shares as of Dec. 31, according to data compiled by Bloomberg. Valeant, which had grown to 29 percent of Sequoia's portfolio at the middle of last year, has been targeted by short sellers who say the drugmaker used a mail-order pharmacy to inflate sales figures. Charles Munger, Buffett's longtime business partner, bashed Valeant in a November interview, calling its strategy of acquiring rights to treatments and boosting prices unsustainable and "deeply wrong."
Things got worse on Tuesday, when Valeant lost more than half its market value. The stock fell 51 percent, the most ever, to $33.51 after the company cut its 2016 forecast, reported a weak fourth quarter and said it risked breaching some of its debt agreements if it can't file its annual report in time. In August, the shares reached a closing high of $262.52.
Directors' Meeting
At a meeting Monday, the Sequoia directors spent a long time talking about the condition of Valeant and its outlook, said Robert Swiggett, who has been on the board since the fund was started in 1970 and has a significant portion of his own money in it. He said the latest news came as a shock.
"It seemed to all of the guys at the meeting that the prospects were reasonable, certainly not equivalent to what came out today," Swiggett, 94, said of Valeant in an interview Tuesday.
The Sequoia Fund was co-founded by William Ruane, a friend of Buffett's from their days at Columbia University, and Richard Cunniff. Ruane and Cunniff had success for decades employing many of the same investing strategies as Buffett, looking for undervalued stocks that can provide solid long-term returns.
High-Conviction Approach
The fund's high-conviction approach worked well in the past. Sequoia historically has had a more concentrated portfolio than most of its peers, said Kevin McDevitt, a senior analyst at Morningstar Inc.. Berkshire Hathaway was its No. 1 position for almost two decades until 2010, when the managers sold down the stake.
"You could make the argument that a company focused in one industry with an aggressive business model is fundamentally different than Berkshire, but to say its never had such a concentrated position isn't quite true," McDevitt said.
Some clients have lost confidence. The fund suffered $780 million in outflows in the five months through February, Morningstar estimates.
Before it's here, it's on the Bloomberg Terminal.
LEARN MORE