S&P 500 at 2016 High as Fed Sees Slower Pace on Rate Increases
by , , and
Energy, raw-material producers lead gains as commodities climb

S&P 500 Index trims 2016 decline to less than 1 percent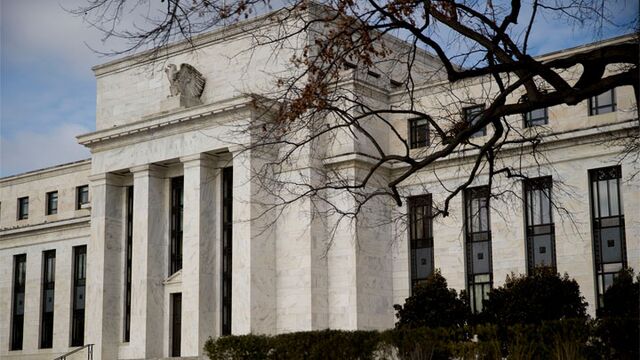 The Standard & Poor's 500 Index closed at its highest level this year as the Federal Reserve signaled a slower pace of interest-rate increases amid the potential impact from weaker global growth and financial-market turmoil.
Commodity shares led the advance as crude rallied with metals prices after the Fed decision sent the dollar tumbling against major peers. Copper miner Freeport-McMoRan Inc. surged 10 percent, while Chevron Corp. rose 1.2 percent. Oracle Corp. rallied to a four-month high, boosting technology shares after its quarterly profits topped estimates. Banks slid on the outlook for a slower climb in rates, with Bank of America Corp. losing 1.9 percent.
The S&P 500 added 0.6 percent to 2,027.22 at 4 p.m. in New York, halting a two-day slide. The Dow Jones Industrial Average also closed at its highest this year as it gained 74.23 points, or 0.4 percent, to 17,325.76. The Nasdaq Composite Index increased 0.8 percent to its best level since Jan. 6. About 7.6 billion shares traded hands on U.S. exchanges, 14 percent below the 2016 average.
"By guiding lower on inflation expectations as well as their median forecast, the signal for the market has now been shifted to a more dovish stance," said Chad Morganlander, a money manager at Stifel, Nicolaus & Co. in Florham Park, New Jersey. "Investors in a short term will look at it as a bullish signal for the overall market. It moves the Fed in a position of being more accommodative, which will soften the dollar."
The Federal Open Market Committee kept the target range for the benchmark federal funds rate at 0.25 percent to 0.5 percent. The median of policy makers' updated quarterly projections saw the rate at 0.875 percent at the end of 2016, implying two quarter-point increases this year, down from four forecast in December.
"The committee currently expects that, with gradual adjustments in the stance of monetary policy, economic activity will expand at a moderate pace and labor market indicators will continue to strengthen," the FOMC said. "However, global economic and financial developments continue to pose risks."
It is the third major central-bank policy event since Thursday, following an unprecedented stimulus package unleashed by the European Central Bank, and after the Bank of Japan held off from adding more to its record stimulus as officials gauge the impact of a negative interest-rate strategy adopted in January.
Traders responded to the Fed by lowering expectations for rate increases this year, as reflected by futures prices, according to data compiled by Bloomberg. Odds for a June boost to borrowing costs fell to 37 percent, compared with about 54 percent before the Fed's statement and outlook.

U.S. stocks have rebounded in the past month, bolstered by improving data, rising crude prices and as central banks around the world indicated a willingness to continue measures to support growth and stabilize markets after a tumultuous start to the year.
The S&P 500 has risen nearly 11 percent since its February low, trimming its 2016 drop to 0.8 percent. The index is among the best-performing developed-market benchmarks tracked by Bloomberg this year.
The Chicago Board Options Exchange Volatility Index fell 11 percent Wednesday to 14.99, the lowest in three months. The measure of market turbulence known as the VIX is also on track for a fifth weekly decline, the longest stretch in four years.
"The trajectory the Fed just articulated both gives them some wiggle room in case things weaken but also puts them on a path toward normalization," said Matthew Kaufler, a portfolio manager with Federated Investors Inc. who oversees funds with about $2 billion assets. "The Fed has positioned itself as a data-driven decision-making entity, and the data that's coming in has largely reinforced the idea the economy is on firm footing."
Fed officials have stressed that the pace of rate boosts will be gradual and data-dependent. A report today showed consumer prices excluding food and fuel climbed more than forecast in February for a second month, adding to signs inflation is moving closer to the central bank's target. Separate measures showed new-home construction rose more than economists forecast last month and factory production increased for a second month, indicating manufacturing may be starting to stabilize.
"The Fed delivered to the market what the market was anticipating," said Jeff Mortimer, the Boston-based director of investment strategy for BNY Mellon Wealth Management, which oversees more than $183 billion. "This certainly doesn't do anything to prevent upward drift in the market going forward. What we've seen over the last couple weeks may have been anticipation of this. It's certainly not a negative."
Eight of the S&P 500's 10 main industries climbed today, led by commodity shares with raw-material and energy producers rising more than 1.6 percent. Technology companies increased 1.1 percent. Declines in banks weighed on the financial group, while drugmakers dragged down health-care stocks for a third day.
Freeport-McMoRan jumped 10 percent to a four-month high to lead raw-materials, while Alcoa Inc. added 6.3 percent. Southwestern Energy Co. and Devon Energy Corp. advanced more than 8.8 percent to top gains among energy producers.
Apple Inc. and Microsoft Corp. increased more than 1.3 percent, joining Oracle to lift the technology group to its highest close this year, after gaining 13 percent from a February low. Microsoft rose for a fourth day, its longest rally since October.
Banks in the benchmark declined for a third day and the sixth time in the last eight sessions. Citizens Financial Group Inc. and Fifth Third Bancorp fell the most Wednesday, losing at least 2 percent. The KBW Bank Index slid 1 percent, the most in a week.
Allergan Plc lost 3.6 percent and Pfizer Inc. sank 1.7 percent, the biggest drags on health-care as the group dropped for a third day, the most in five weeks. Mallinckrodt Plc declined 6.4 percent, the biggest drop in the S&P 500, after a nearly 15 percent tumble yesterday amid the fallout from Valeant Pharmaceuticals International Inc.'s Tuesday plunge.
Before it's here, it's on the Bloomberg Terminal.
LEARN MORE