RBS Chairman Davies Raises `Brexit' Concern Over Irish Bank Unit
by
Bank faces practical issues, to be `careful,' chairman says

U.K. lender scrapped plans to sell Ulster unit last year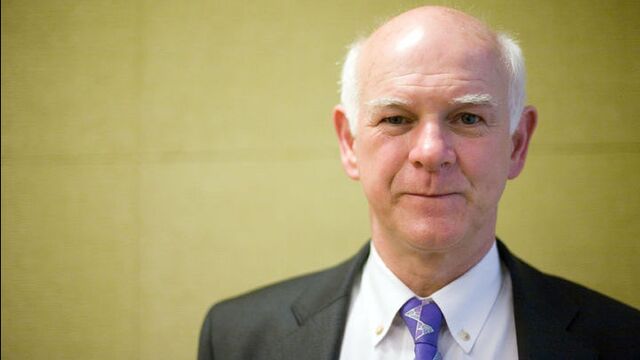 Royal Bank of Scotland Group Plc Chairman Howard Davies said a British vote to leave the European Union would risk cutting the state-owned lender off from its Irish Ulster Bank division.
"We would be very concerned if we were detached from that bank," Davies, 65, said in an interview with Francine Lacqua and Tom Keene on Bloomberg Television on Wednesday. With Ulster Bank headquartered in Dublin, RBS is considering "what it might mean if we were out whilst owning a bank within the euro zone" as part of its contingency planning, he said, ahead of Britain's June 23 referendum on its EU membership.
While some global banks with operations in London have said they may move employees in the event of a so-called Brexit, RBS's Irish business presents Davies and Chief Executive Officer Ross McEwan with additional complexity. Ulster Bank is the third-largest lender in the Republic of Ireland and Prime Minister Enda Kenny has warned that a U.K. departure from the EU would present a "major strategic risk" for his country, which uses the euro.
"There is an issue with our Irish bank we have to be careful about," Davies said. "There would be an issue with corporate lending into Europe. Could we do that out of a non-EU entity or would we have to have an entity? It's practical issues like that which would affect us."
RBS last year scrapped plans to sell Ulster Bank after injecting 15.3 billion pounds ($22 billion) into the company during the financial crisis sparked by the country's real-estate collapse. The lender split the unit into southern and Northern Irish divisions, with the U.K. part of the business reporting into the wider banking group. RBS hired Danske Bank executive Gerry Mallon in November to run the operation in the republic from June.
Before it's here, it's on the Bloomberg Terminal.
LEARN MORE