Pension Funds Urge Trudeau to Think Big on Infrastructure
by
Funds urge Canada to adopt Australia, U.K. spending models

Infrastructure spending deficit sits at C$150 billion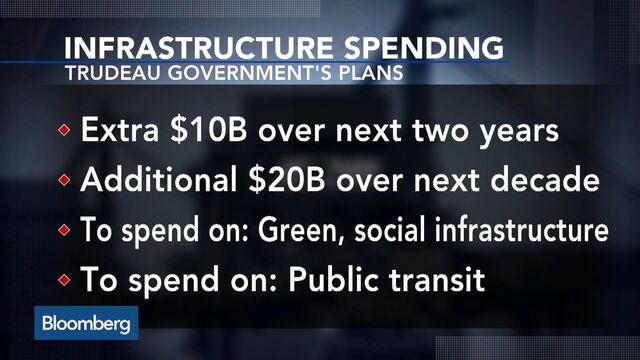 Canada's largest pension funds have advice for Justin Trudeau's government as it prepares to double its infrastructure investments over the next decade: follow the Australian model and think big.
The funds, which manage more than C$760 billion ($568 billion) in combined assets, say they need large projects like airports, toll roads and ports to justify their time and investment with so many global assets competing for their cash.
"What are we looking for? We're looking for projects of scale," said Mark Wiseman, chief executive officer of Canada Pension Plan Investment Board, the country's largest pension fund with C$283 billion in assets.
The Canadian government isn't expected to provide extensive details of its infrastructure plan in the March 22 budget because it's still developing a long-term strategy. Federal officials have said an extra C$10 billion will be made available over the next two years while it crafts a broader strategy to deploy an additional C$20 billion to each of three silos over the next decade: public transit, green infrastructure, and social infrastructure.
The country's largest pension funds, including Canada Pension Plan, Caisse de Depot et Placement du Quebec, and Ontario Teachers' Pension Plan, are encouraging the federal government to be ambitious for the longer-term strategy.
Canadian pension funds and money managers have become global leaders by investing in ports, toll roads, power plants and other infrastructure, deploying billions annually as they reduce risk in their portfolio through geographic diversification.
Home Grown
They've become so big, many have outgrown the opportunities at home, presenting a challenge for the Trudeau government as it seeks outside investment. The Canadian government estimates the infrastructure funding gap in the country is more than C$150 billion, said Minister of Infrastructure and Communities Amarjeet Sohi.
Sohi is meeting various stakeholders, including mayors, premiers and pension funds, on how to bridge that gap.
"A key piece of engaging private investors is a significant long-term strategy," he said in an e-mail interview last week. "We committed to doubling federal investment in infrastructure over the next decade, which will help ensure we have needed funding in place for critical infrastructure."
Places like Canada are particularly attractive for infrastructure assets, with its strong rule of law, a progressive and predictable regulatory regime, and a talented managerial class, Wiseman said.
Mature Assets
"We're very interested in investing in Canadian infrastructure under the right conditions," he said "There's no better place to invest than close to home."
Canada Pension, like many other large global investors, would rather acquire mature infrastructure assets than finance new projects because they're safer, Wiseman said. He encouraged the federal government to look to places like Australia or the U.K. as examples of how Ottawa could utilize the capital of these global funds to meet its own infrastructure needs.
In 2014, the Australian government established its Asset Recycling Initiative, in which the federal government grants 15 percent of the sale price of privatized infrastructure assets to states and territories. The federal funds and proceeds from the sales are used to develop new projects.
The Australian government estimates the initiative could spark as much as A$32 billion ($24 billion) in new infrastructure investment, and global investors have taken notice.
Last year, $52 billion was invested in Australian companies from foreign buyers, including a record $16.4 billion from Canadian investors, according to data compiled by Bloomberg. Canada Pension was part of a group that agreed to buy Asciano Ltd. in a deal announced Tuesday valuing the Australian port and rail operator at A$9.05 billion.
Quebec Model
Montreal-based Caisse, Canada's second-largest pension fund, led a consortium last November to acquire Transgrid, a network of high-voltage power lines, from the State of New South Wales for $7.4 billion.
The challenge for larger funds to invest in traditional public-private-partnerships is that the equity stake -- and in turn the reward -- is often too small for them to pursue, said Andrew Claerhout, head of the infrastructure group for Ontario Teachers'.
Projects like the Gordie Howe International Bridge in Windsor, Ontario may cost billions to build but only require an equity investment of C$150 million or less because the private partners can load their investments up with debt with the government's support, he said.
"If we were going to do that to deploy C$150 million that means we wouldn't be able to do a bunch of other things. So you have to think about returns on effort and on capital," he said.
Ring Road 
Canadian projects that might attract interest include a possible ring road around Toronto, he said. Another example would be the Metro Toronto Convention Centre, according to Michael Latimer, chief executive of the Ontario Municipal Employees Retirement System.
Michael Sabia, CEO of the Caisse, said he'd like to see the government follow his lead. Last year, the Caisse struck a deal to build and run infrastructure projects that Quebec is ill-equipped to fund itself.
The Caisse is working on two projects in Montreal, including a light-rail corridor on the new Champlain Bridge and a public transit system linking downtown to Trudeau International Airport and West Island. The combined value of those projects is estimated to be about C$5 billion.
"We think that's a creative way for the government to invest in infrastructure and in a way that makes it fiscally manageable," Sabia told reporters earlier this month.
The federal government has outlined some broad strokes of its plan, including developing an Infrastructure Bank that would give out loans using its government credit rating.
Sohi said it's too early to say whether he would eventually adopt a broader strategy, like the Australia model, to attract global pension and sovereign-wealth funds.
"We are in a consultation phase and are not ruling out any option," he said.
Before it's here, it's on the Bloomberg Terminal.
LEARN MORE