Osborne Seeks Low-Cost Vote Winners as Austerity Tightened
By
Schools in England to be freed from local-authority control

Chancellor delivers budget against worsening global backdrop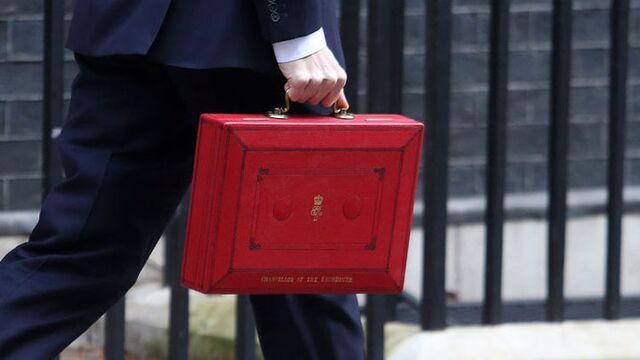 U.K. Chancellor of the Exchequer George Osborne is set to unveil sweeping education reforms in his Budget on Wednesday as he seeks to sweeten the pill of austerity three months before the referendum on European Union membership.
Schools in England are to be freed from local-authority control by 2022 and teaching days will lengthen under a 1.5 billion-pound ($2.1 billion) package of measures designed to improve education standards, according to the Treasury.

"The Budget I'll deliver today will put the next generation first," Osborne said in the statement. "I'm going to get on with finishing the job we started five years ago, to drive up standards and set schools free from the shackles of local bureaucracy."
With his hands tied by a deteriorating growth picture and lower-than-forecast tax revenues, Osborne is seeking measures that deliver maximum impact for minimal cost. He faces the task of announcing billions of pounds of additional spending cuts at a time when his Conservative Party is divided over the June 23 referendum and polls suggest the result is too close to call. Osborne will begin his speech to lawmakers at about 12:30 p.m. in London.

Under new proposals, schools currently overseen by local government will have to convert into academies, which are directly funded by the central government. Osborne will also promise an end to the "Victorian tradition" of schools finishing at 3.30 p.m. Schools will also be able to bid for free funding to provide their pupils with an additional five hours a week of lessons or extra-curricular activities, including sport and art.
The announcement follows a commitment to build major rail routes across London and in the north of England, a move Osborne hopes will prove popular with voters and provide a boost to the economy.
"This Budget looks more like a press stunt to hide George Osborne's failures than about any serious policy," the main opposition Labour Party's finance spokesman, John McDonnell, said in an e-mailed statement. "Take his education announcement: It won't address the real issue in our education system around increasing class sizes, shortage of teachers and lack of school places by just forcing schools to become academies."
Osborne set the tone for the Budget when he warned on Sunday that "the world is a more uncertain place than at any time since the financial crisis" and said a further 4 billion pounds of spending cuts will be needed. It marks a shift from his November Autumn Statement, when a 27 billion-pound windfall from cheaper debt costs allowed him to ditch controversial cuts to income top-ups for the low paid and still cut borrowing.
Forcing the turn is the general economic malaise at home and abroad since as well as downward revisions to gross domestic product.
Smaller Economy
The economy was 1 percent smaller in cash terms last year than the Office for Budget Responsibility predicted in November and the outlook has weakened, potentially costing the Treasury billions of pounds in tax revenue. While the OBR predicted U.K. growth of 2.4 percent this year and 2.5 percent in 2017, the median forecast of economists surveyed by Bloomberg News is now for 2 percent and 2.2 percent.
There was good news for the chancellor in official data published Wednesday morning showing unemployment holding at its lowest rate for a decade and wage growth ticking higher. Pay excluding bonuses increased 2.2 percent in the three months through January, the Office for National Statistics said. Economists had forecast a pickup to 2.1 percent from 2 percent in the fourth quarter. Unemployment fell 28,000, leaving the rate at 5.1 percent.
Still, more people have continued to feel that their household finances are getting worse rather than better, according to regular polling published this week by BMG Research. Respondents were also feeling less optimistic about the coming 12 months, particularly on the state of the economy,
Hemmed In
Osborne is also hemmed in by his own commitment, now enshrined in law, to deliver a budget surplus by 2020 -- the first since 2001 when Tony Blair was a first-term prime minister. Without further belt tightening, Osborne would see his forecast of a 10.1 billion-pound surplus all but wiped out, according to Bloomberg Intelligence economist Jamie Murray.
"The chancellor is likely to be left with a fairly big hole in the public finances," Murray said. "The 'takeaway' from this fiscal event would be bigger than the 'early Christmas present' he received at the time of the Autumn Statement."
Commitments to protect spending on health, overseas aid and schools mean the ax will fall on departments outside the ring-fence, with local governments expected to bear the brunt.
On the revenue side, Osborne is restricted by a 2015 election pledge not to raise the main rates of income tax, value-added tax and national insurance, as well as commitments to ease the burden on low and middle earners by raising tax thresholds. Revenue-generating options include:
A crackdown on the use of personal-service companies to dodge employment taxes.
Scaling back plans to cut the levy on bank balance sheets.
Using the fall in gasoline prices to raise fuel duty.
Increasing insurance premium tax from the current 9.5 percent. 
Raising "sin taxes" such as duties on cigarettes and alcohol.
Cutting the 40,000-pound annual limit on pension savings subject to tax relief.