Osborne Tax Cuts Calm Tory `Brexit' Feud -- for a Day at Least
by
Raises threshold for higher-rate taxpayers from April 2017

Pledges cut in corporation tax to 17% by 2020 from 20%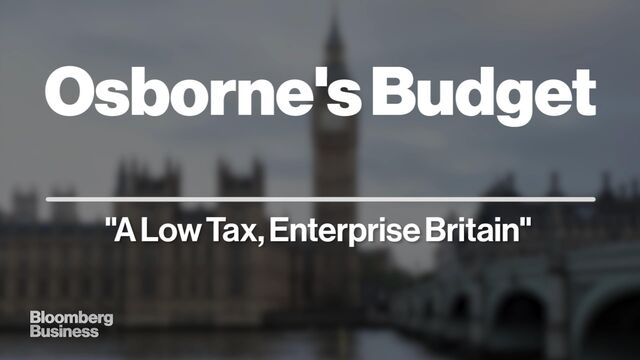 The feud roiling Britain's governing Conservatives eased, for at least a day, when Chancellor of the Exchequer George Osborne reminded them what they all can endorse: tax cuts.
QuickTake Will Britain Leave the EU?
Appealing to core constituencies, the finance minister announced in his annual budget address Wednesday an increase in the income threshold where people start paying the 40 percent levy and reductions in corporate tax rates.
"I strongly welcome the tax reductions, and I'm very pleased that the chancellor is getting on with progress in implementing our promises to get people out of income tax altogether," said John Redwood, a Conservative lawmaker who advocates an EU exit in a June 23 referendum. "The more progress we can make, the better."
Hampered by lower growth forecasts and a law requiring a balanced budget by 2020, Osborne's tax reductions helped to ease the path of deficit reduction before 3.5 billion pounds ($4.9 billion) of unspecified spending cuts kick in during the final year of the decade. The chancellor, once the favorite to succeed Prime Minister David Cameron, now trails London Mayor Boris Johnson.

Johnson, a proponent of "Brexit," called Osborne's spending blueprint "fantastic."
Debate about the referendum on Britain's membership of the EU, scheduled for June 23, has dominated political debate and split the Conservatives. Barely 10 minutes into his budget speech, Osborne set out the risks of leaving the bloc, quoting a report by Britain's fiscal watchdog.
Osborne took credit for Britain's improving finances since Cameron assumed office in 2010. Growth is expected to be 2 percent this year, as calculated by the Office for Budget Responsibility, compared with a prediction of 2.4 percent in November. The economy will expand by 2.2 percent in 2017 and 2.1 percent in 2018, down from previous estimates of 2.5 percent and 2.4 percent.

With growth weaker than expected, Osborne had limited room to maneuver to keep government borrowing in check. Even with that, "the new plans have reintroduced significant volatility between years in the public finances," according to Bloomberg Intelligence economists Jamie Murray and Dan Hanson.
While better-off voters were the biggest beneficiaries of Wednesday's budget, it was not entirely devoid of populist measures. He took more people out of paying tax altogether by raising the personal tax-free allowance to 11,500 pounds from 11,000 pounds.
Sugar Cut
The income-tax cut will take more than half a million people out of the 40 percent tax band from April next year, with the trigger raised to 45,000 pounds ($63,000) from 42,385 pounds. The rise in the personal allowance was "a tax cut for 31 million people," he said.
He also pledged to reduce corporation tax to 17 percent from 20 percent by 2020 -- a move which will please small and medium sized businesses most, who will also benefit from higher thresholds on relief from business rates.
The budget has "unfairness at its very core, paid for by those who can least
afford it," Labour Party leader Jeremy Corbyn told lawmakers in Parliament. "It's a recovery built on sand on a budget of failure. He's failed on the budget deficit, failed on debt, failed on investment, failed on productivity, failed on the trade deficit, failed on welfare cap, failed to tackle inequality in this country."
Addressing concerns over rising obesity rates, Osborne put a levy on sugary drinks, hitting shares of Associated British Foods Plc, Tate & Lyle Plc, Britvic Plc and A.G. Barr Plc. The FTSE 100 index rose 0.3 percent and the pound fell 0.4 percent against the dollar.
Osborne also froze duty on gasoline, known as petrol in the U.K., after speculation before his speech that he would increase it to capitalize on lower retail prices. He also maintained the duties on beer and cider and increased the allowance for tax-free Individual Saving Accounts to 20,000 pounds.
Tax Avoidance
At the same time, Osborne sought to crack down on tax avoidance by large companies using complex structures. Altogether, he said the measures would generate 9 billion pounds in extra revenue to be used to pay for the lower business rate. The move could raise money from global giants such as Amazon.com Inc. and Google parent Alphabet Inc., which have been at the center of tax disputes with the government.
"Delighted for the millions of working people who'll be lifted out of tax or enjoy a tax cut in this year's budget," Conservative "Brexit" advocate Adam Afriyie said on Twitter. Still, he noted, "the 96.5 billion-pound EU budget over the next 5 years remains untouched."
Before it's here, it's on the Bloomberg Terminal.
LEARN MORE