Osborne Accused of Accounting Tricks to Meet Budget Surplus Goal
by and
OBR says surplus goal relies on Budget policy shifts

Capital investment and corporation tax payments rescheduled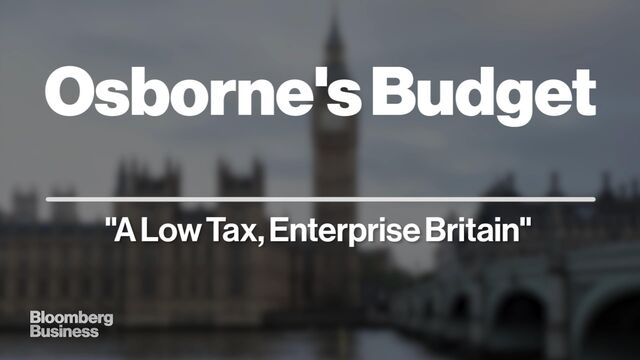 U.K. Chancellor of the Exchequer George Osborne, juggling slower-than-expected growth with a legally binding target to deliver a budget surplus by the end of the decade, resorted to what some economists dismissed as accounting tricks to make his sums work.
Unveiling forecasts for a 10.4 billion-pound ($14.8 billion) surplus in 2019-2020 in his budget on Wednesday, Osborne rescheduled capital investment, promised post-dated spending cuts and shifted a one-off boost to corporation-tax receipts into 2019, analysis of the budget by Britain's fiscal watchdog shows. The Office for Budget Responsibility estimates that policy measures will raise 13.7 billion pounds in 2019-20 and 13.1 billion pounds in 2020-21, helping to offset the loss of tax revenue.
"This really is pretty egregious accounting gimmicks and smoke and mirrors," said Jonathan Portes at the National Institute of Economic and Social Research. "If you're going to do this, why have a fiscal target at all. It means you have no credibility."
Under Pressure
Osborne has staked his reputation --and his chances of succeeding David Cameron as prime minister-- on his stewardship of an economy now showing signs of wobbling. Committing his fiscal goal of balancing the books into law has forced the chancellor to continue with his austerity measures. At the same time, the chancellor was under pressure not to risk alienating voters before the June 23 referendum on European Union membership, which has split the electorate as well as his own Tory party.
The budget figures show a series of measures deliver revenue or savings in the final year of the decade that are out of line with the years on either side. The single biggest contributor is a decision to delay making large companies pay tax on their profits three months earlier than they do now. The move has the effect of shifting 6 billion pounds of revenue into 2019-20.
As yet unidentified cuts to departmental spending promise to generate 3.5 billion pounds after an "efficiency review" to be carried out in 2018. The Treasury has also moved 1.6 billion pounds of planned capital spending out of 2019-20 and into the two previous years.
A decision not to compensate public-sector employers for an increase in the pension contributions they have to make saves 2 billion pounds.
The two-year delay to the corporation-tax measure was the result of representations made by business to the government, according to a Treasury official, who declined to be named in line with U.K. government practice.
"Overall, the pattern is clear," said OBR Chairman Robert Chote. "A tax and spend giveaway through to 2018-19, followed by the promise of a takeaway in 2019-20 and 2020-21 -- the years for which the government has a surplus target."
Before it's here, it's on the Bloomberg Terminal.
LEARN MORE