Norges Bank Preview: Rate Cut and Lower Path Widely Expected
Most analysts see a 25-basis-point reduction this week.
by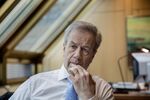 Norges Bank will probably cut its key policy rate and lower the rate path this week, as oil-price declines have hurt Norway's economy and monetary easing abroad has driven foreign rates lower, analysts say in client notes.
Of 20 economists surveyed by Bloomberg, 18 see Norges Bank cutting the deposit rate by 25 basis points to 0.5 percent; one expects a cut to 0.25 percent, while one sees no change. Norges Bank's decision is due on Thursday at 10 a.m. in Oslo.
Roubini Global Economics
Roubini anticipates a cut, although the risks are finely balanced, economist Alex Waters says. Norges Bank may have reservations about cutting the interest rate, despite deteriorating petroleum-sector investment and a regional contact survey that doesn't offer much hope for the next six months.
A recession in Norway is a real risk, but an expansionary fiscal package is about to be unleashed. Norges Bank has said it's penciling in a cut in the first half of 2016, so it may want to wait and see whether the fiscal package makes a difference. Also, unemployment, although high, is stable, according to Waters.
Nordea
Nordea forecasts a 25-basis-point rate cut, economist Erik Bruce says. The bank also expects the bottom of the rate path will be lowered to near 0.2 percent in late 2016, and that the rate path will signal a more than 50 percent chance of another rate reduction to 0.25 percent at the June meeting, Bruce adds. Nordea expects rates to fall and the Norwegian krone to weaken if these expectations materialize, he said.
Danske Bank
Danske Bank forecasts a 25-basis-point rate cut, according to analysts including Frank Jullum. The bank also anticipates Norges Bank will lower its rate path, to signal 80 percent probability of a reduction before the fourth quarter of this year, the analysts add.
The largest risk factor is that Norges Bank fully incorporates the wage expectations from the regional survey. If so, the rate path will include a 100 percent probability of another rate cut, with the likelihood of an even more aggressive rate path.
Nordea estimates markets are pricing in around a 75 percent probability of a 25-basis-point March rate cut, an accumulated 30-basis-point rate reduction for the June meeting and an accumulated 46 basis points' worth of cuts over 12 months. Nordea believes the currency will weaken against the euro on the announcement, though market pricing limits the size of any move, the analysts say.
Goldman Sachs
Norges Bank is more likely to cut its rate than not, but the rates market is pricing in too much downside, economist Lasse Holboell Nielsen says. Goldman Sachs sees no subsequent easing following a cut this week, and expects the monetary policy review to contain relatively few revisions to growth, inflation and the policy rate path, according to Nielsen.
Handelsbanken
Norges Bank will probably cut the deposit rate by 25 basis points and may signal a slight probability for rates hitting zero by the end of the year, economist Marius Gonsholt Hov says.
SEB
Recent economic developments have been broadly as expected, suggesting Norges Bank should be faithful to its current rate path -- which implies one-and-a-half rate cuts -- by cutting the rate by 25 basis points, analysts Erica Blomgren and Stein Bruun say. An on-hold decision could become a credibility issue for the bank, they add.
SEB expects that the short end of the rate path to be lowered by around 5 to 10 basis points, implying around 75 percent probability for another rate cut this year while the long end of the path should see a somewhat larger downward adjustment.
Nomura
Nomura expects a 25 basis points rate cut, strategist Yujiro Goto says. As there have been signs that the negative impact of the decline in oil prices is spreading into the manufacturing and retail sectors, the risk bias has shifted to be more pessimistic.
The rate path is likely to be downgraded slightly, pointing to the likelihood of yet another rate cut. Nomura sees limited risk for the Norwegian krone to weaken beyond 9.50 against the euro in the near future, Goto adds.
DNB
DNB anticipates a 25 basis points rate cut and a rate path which indicates another cut after summer 2016 and also slower increases in 2018, according to analyst Kyrre Aamdal. DNB expects Norges Bank to cut policy rate to 0.25% in September and stay there.
Since the policy meeting in December, rates and inflation forecasts abroad have fallen, while the Norwegian krone is a bit weaker. The oil price is lower, rate spreads are higher, domestic growth seems weaker, but unemployment is in line with forecasts and productivity growth is lower.
Before it's here, it's on the Bloomberg Terminal.
LEARN MORE