China's Growth Champion Looks to Set Example Cutting Excess
Bloomberg News
Mayor Huang discusses Chongqing efforts to ease systemic risk

Local reforms being watched closely after nod from Xi Jinping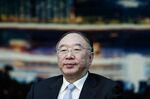 Chongqing's mayor is vowing to slash industrial capacity and reduce a housing glut as the booming municipality attempts to put itself at the vanguard of China's push to restructure the economy.
Mayor Huang Qifan, 63, told Bloomberg News that paying off debt, clearing excess property inventory and closing inefficient "zombie" companies are top priorities for the southwestern megacity, which has more people than Texas. The written interview during the annual legislative meetings in Beijing was his first with foreign media since he emerged as a candidate for a top economic post after last year's market turmoil.
"We must make sure to prevent systemic and regional financial risk," Huang said, adding that the municipality was taking steps to reduce capacity in coal mining, steel production, shipmaking and power production. Chongqing, with an economy larger than Greece, will use a "market-oriented approach" to swap high-cost debt for businesses that have promising outlooks and good liquidity, Huang said.
Chongqing's economic overhaul is being watched closely after high-profile endorsements from President Xi Jinping and Premier Li Keqiang, as they try to wean China from export-and-investment-dependent growth in favor of services, innovation and consumer spending. The municipality, which also has provincial status, has posted the fastest economic growth among provinces for the past two years and "the Chongqing experience" has become a byword for reform in the state-controlled media.
Prominence Restored
Such support has helped restore Chongqing to prominence after serving as backdrop to one the country's most explosive political scandals in 2012. The local party chief, Bo Xilai, who had championed the "Chongqing model" of development, was eventually sentenced to life in prison for corruption and abuse of power.
Huang, who has served as mayor since 2010, has emerged unscathed. The former coking plant manager was named to the panel that drafted Xi's signature economic plan in 2013 and was among a half dozen regional leaders who joined the president on a state visit to the U.S. in September. Huang's current boss, Chongqing party secretary Sun Zhengcai, 52, is the youngest member of the party's 25-member Politburo.
'High Regard'
"Chongqing's reform efforts are held in high regard in Beijing," said Zhu Andong, professor of political economics at Tsinghua University. "And Huang's economic agenda could turn out to be a good lesson for other provinces because he has successfully pushed up the local economy against a national economic slowdown."
The once-isolated Yangtze River port -- located more than 1,400 kilometers (870 miles) from the Pacific -- prospered as China's boom rolled inland and has drawn investments from companies such as Ford Motor Co. and Hewlett-Packard Co. It produces every third laptop computer sold worldwide and accounts for one-eighth of China's car production, Huang said, adding the government would prioritize the establishment a local free-trade zone.
The local government is targeting growth of 10 percent this year and 9 percent annually through the end of the decade. That compares with a national goal of at least 6.5 percent. Chongqing also expects to double its 2010 gross domestic product and income levels by next year, three years before the country aims to hit those milestones. 

At the same time, the municipality of 30 million plans to "enhance the effective supply of public services to help the people to feel greater satisfaction," Huang said.
The moves fall under a broad policy umbrella dubbed "supply-side reform" by the government and promoted by Li on Wednesday at his annual briefing to end the National People's Congress. The overhaul is a "war we must win," the state-run Xinhua News Agency said in an editorial carried Thursday by the official Chongqing Daily.
The agenda includes plans to trim an oversupply of homes built during the country's stimulus-fueled property boom, Huang said. The local government intends to purchase some residential buildings and turn them into social housing projects. It will convert some uncompleted malls and offices into business incubators and parking garages.
Regional Pioneers
Chongqing will seek to ensure "both defaults and debt-service ratios decline at the same time, without increasing the total amount of debt," Huang said. The local government planned to set up more financial vehicles for companies and standardize public-private partnerships, he said, adding that the city has implemented 260 billion yuan worth of public-private partnerships over the past two years.
In another nod of support, Li told Chongqing delegates on March 8 they should "occupy the high ground to open up central and western China, to plant a flag and become the pioneers of the region's development," according to the Chongqing Daily. The premier compared the area's economy to its famed spicy cuisine, which is cooked communally around a pot.
"Chongqing's development trend is like Chongqing hotpot," Li said. "It's very hot!"
— With assistance by Keith Zhai
Before it's here, it's on the Bloomberg Terminal.
LEARN MORE