Li Sees No Risk to U.S.-China Ties on Day of Trump, Clinton Wins
Bloomberg News
Premier says 'eye-catching' election won't change relations

Victories give China critics tighter grip on party nominations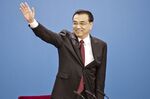 Chinese Premier Li Keqiang expressed confidence that ties with the U.S. could endure this year's "eye-catching" presidential election, even as voters carried China-critic Donald Trump closer to the Republican nomination. 
Shared interests would continue to provide the foundation for relations between the world's two largest economies regardless of the election outcome, Li said Wednesday in a news conference to wrap up annual legislative sessions in Beijing. China's No. 2 leader was asked about China-bashing by the candidates at the same time votes from five U.S. state primaries were being tallied.
"No matter how the choice will be made and who will become the president, I believe the general trend toward further development of China-U.S. relations will not change," Li said.
The results -- including contests in the key states of Florida and Ohio -- brought both the billionaire Trump and former U.S. Secretary of State Hillary Clinton closer to securing nominations of the respective parties. Trump has blamed China for the woes of the American middle class while Clinton irked Chinese leaders in the past with her positions on the South China Sea territorial disputes and human rights.

"China and the United States share extensive common interests, but also there have been areas of disagreement and some of them are quite sharp," Li said. "China and the United States have wider and increasing common interests, and those are far more than differences."
The premier also struck a conciliatory tone in response to a question about the South China Sea, a primary point of contention with the U.S. Each side has accused the other of militarizing the key shipping corridor, with China placing weapons on islands it claims and the U.S. sending warships to assert freedom of navigation rights.
"The U.S. has never left the Asia Pacific, we can cooperate in the Asia-Pacific region and properly handle our differences," Li said.
— With assistance by Keith Zhai
Before it's here, it's on the Bloomberg Terminal.
LEARN MORE