Greens Go From Turnbull Foe to Friend as Australia Poll Looms
by
Di Natale takes risk by backing government's Senate reforms

Former doctor seeks to entrench party as third political force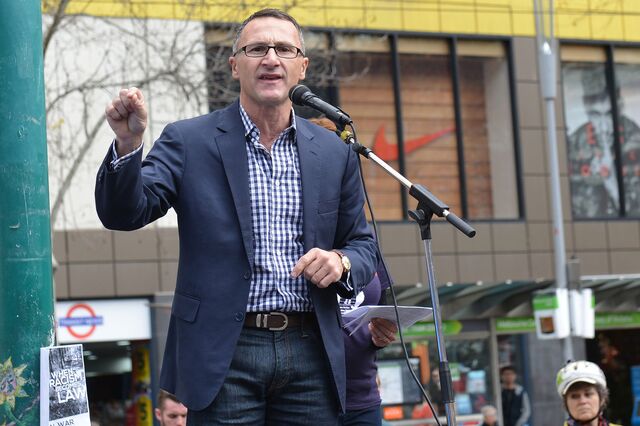 Under Richard Di Natale's leadership, the Greens have been a thorn in the Australian government's side, blocking legislation in the Senate. Now the bookish former doctor is poised to become Prime Minister Malcolm Turnbull's greatest ally as he prepares for a possible early election.
The Greens are set to vote as soon as Thursday in support of laws that will greatly reduce the odds of independent candidates -- eight of whom collectively control the balance of power in the upper house -- from winning seats with only a small fraction of the vote. Their backing will aid Turnbull's efforts to clear out so-called micro-party Senators and could spur the prime minister to call an election as soon as July.
Backing the Senate reforms is a gamble for Di Natale, whose party is at the opposite end of the ideological spectrum from the pro-business Liberal-National coalition government. While a so-called double-dissolution election, which would put all upper house seats up for grabs, may help the Greens cement its place as the third-largest party and eventually win back the balance of power in the Senate, it may also result in Turnbull's coalition picking up seats and strengthening its grip.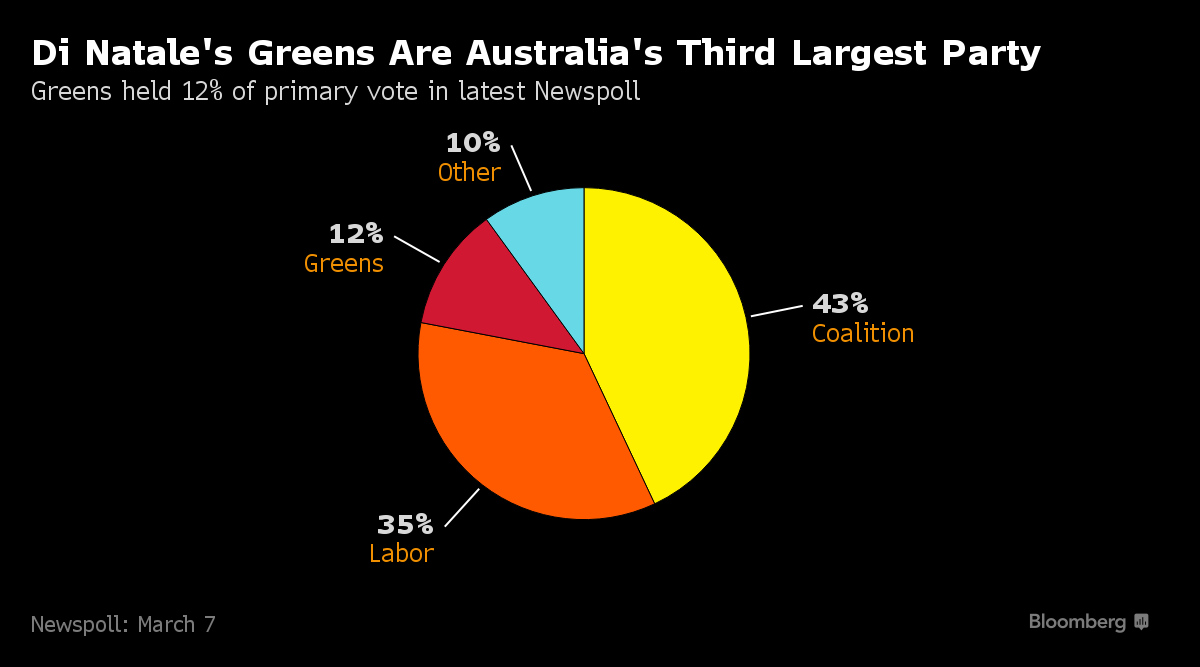 "I've been told that we're either doing it out of self interest or that we're signing our own death warrant," Di Natale, 45, said in an interview in Melbourne last week. "In a democracy you want the outcome of an election to be decided by voters and at the moment, that's not what happens. The system is broken."
Di Natale, who took gained control of the pro-environment party 10 months ago, is attempting to restore the Greens' level of influence, which peaked after the 2010 election when it held the balance of power in the Senate. In return for Greens support -- needed in the lower house to form a government -- Labor pledged to install a price on carbon which was subsequently dismantled by the current government.
"Di Natale's taking the risk that he may deter some of the party's core supporters in the conservation movement through siding with the government in a bid to eventually win over a new generation of voters," said Martin Drum, a senior lecturer in politics at the University of Notre Dame in Perth. "He's trying to broaden the Greens' appeal to become the third force and change their reputation from being obstructionist to constructive."
Same-Sex Marriage
Support for the Greens slumped to 8.7 percent in the 2013 election down from a peak of 13 percent in 2010. While the latest Newspoll this month put the party at 12 percent, Di Natale says a good result at the next election will be above 10 percent. As well as its core environmental concerns, the party will fight this year's election -- which could be called as soon as July 2 -- on issues including allowing same-sex marriage, shutting offshore centers for asylum seekers and making dental care more affordable.
"When I look at the issues concerning young people, there's no reason why we can't get 25 percent of the vote within a decade," he said. "If that happens, it means more lower-house seats, balance of power in the Senate and shaping what an Australian government looks like."
The Greens, which have 10 senators in the 76-seat upper house, have a history of blocking coalition legislation. Since 2013, they have stymied a A$3 billion ($2.2 billion) package to offset childcare costs, a A$1.9 billion cut to higher education funding, and the re-establishment of an anti-union corruption watchdog.
Leftist Spoilers
Despite that opposition, Di Natale is seeking to change the Greens' reputation among many voters as being leftist spoilers mired in confrontational politics. While his predecessors Bob Brown and Christine Milne have their roots in the conservationist protest movement, the current leader is by comparison almost mainstream -- an Australian Rules football-loving surfer from Melbourne's working-class northern suburbs who found his love of nature through bush hikes.
"Yes it's true: I haven't been arrested at a protest," Di Natale said. "I never got involved in student politics and I don't like the games that go on in parliament. Politics to me is a means to an end."
Disillusionment with the traditional working-class Labor party over immigration and pro-logging policies led him to the Greens. When Di Natale joined the party in 2000, it was attracting less than 3 percent of the vote; a decade later, when he won his Senate seat and the party claimed the balance of power, it was at its peak of 13 percent.
Born in Melbourne to Italian immigrants, Di Natale was first drawn to politics while working as a doctor for Aboriginal patients in the Outback.
"When you're treating a young kid who's kidneys are already packed up through a poor diet and they are suffering from poor housing and limited educational opportunities, you start to question how much of a positive impact you're really having," he said.
Before it's here, it's on the Bloomberg Terminal.
LEARN MORE