European Banks Slump as Cryan, Ermotti Signal Tough Year Ahead
by
Deutsche Bank unlikely to post profit this year, Cryan says

UBS chief Ermotti says `challenging conditions' persist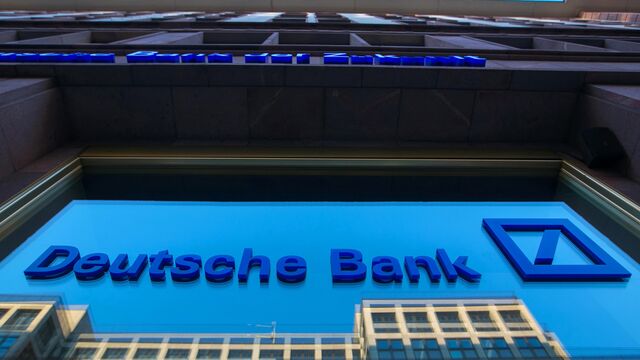 European banks are facing a grim 2016.
That was the message from the top executives of Deutsche Bank AG and UBS Group AG on Wednesday, sending the shares of both banks to their biggest declines since last month's market rout.
John Cryan, Deutsche Bank's co-chief executive officer, said at a London conference that he doesn't expect the German lender to post a profit this year. UBS CEO Sergio Ermotti, at the same event, said "challenging conditions" continued into the first quarter.
"Revenues will remain under pressure in this environment," said Shailesh Raikundlia, an analyst at Haitong Securities U.K. Ltd. in London who has a neutral rating on Deutsche Bank and a buy on UBS. "The question is whether the fourth quarter of 2015 was an aberration or is this what we should expect for the whole of 2016."
UBS fell as much as 5.9 percent in Zurich, and was down 5.1 percent at 15.72 Swiss francs by 4:02 p.m. Deutsche Bank slid 5.4 percent to 17.07 euros in Frankfurt. Credit Suisse Group AG dropped as much as 7.4 percent, partly after Chief Financial Officer David Mathers cancelled his presentation at the London conference for unspecified reasons.

The world's biggest banks have suffered from record-low interest rates, slumping commodity prices, rising fines for misconduct and cooling emerging-market growth. U.S. investment bank Jefferies Group disclosed on Tuesday that trading revenue tumbled 82 percent in the fiscal first quarter. Citigroup Inc. said earlier in March that revenue from fixed-income and equity trading will probably drop 15 percent in the first three months of the year.
"The conditions we noted in our most recent outlook statement have persisted throughout the quarter," Ermotti said, while Cryan said trading in February was "not good" for Deutsche Bank. Business at the unit that issues bonds for clients has picked recently, "but it will never make up for a very slow quarter," he said.
Bankers also warned on Wednesday that they're not done shrinking expenses within their securities units. France's Societe Generale SA may speed up cost-cutting in activities including corporate and investment banking as harsher regulation bites across the industry, CEO Frederic Oudea said at the London gathering. 
More Cuts
UBS may eliminate about 300 jobs at its investment-banking unit in Europe, Reuters reported, citing unidentified people.  
The European firms have been scaling back for years by cutting jobs, exiting some fixed-income assets and shrinking their geographic footprint amid regulatory pressures and a slump in trading revenue. Credit Suisse has also been eliminating jobs at its debt-trading units as stricter capital requirements erode returns.                   
"It's not rosy out there," said Haitong's Raikundlia. "The question is whether investors are willing to look through these short-term, hopefully not structural, issues."
           
Before it's here, it's on the Bloomberg Terminal.
LEARN MORE