Deutsche Bank Shares Fall After CEO Forecasts Unprofitable Year
by
Cryan says bank may make `small profit' or `small loss'

UBS CEO says `challenging conditions' continued into 2016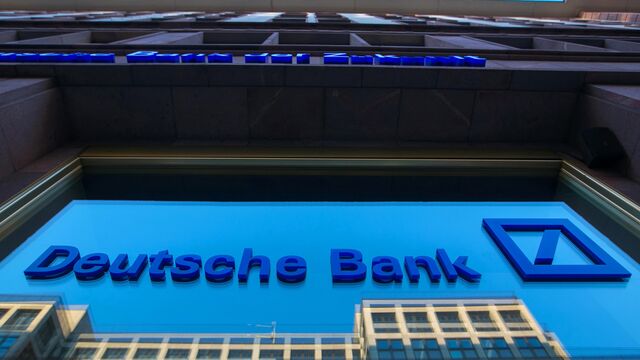 Deutsche Bank AG shares dropped as much as 6.2 percent after co-Chief Executive Officer John Cryan said he doesn't expect the German lender to report a profit this year.
"We've said this year is not going to be a profitable year, we may make a small profit, we may make a small loss, we don't know," Cryan said at a conference in London on Wednesday. "There's a lot of stuff we have to get done this year, so this year we're not going to be profitable."
Cryan has already said the bank probably won't pay a dividend for 2015 and 2016 as part of a plan to bolster finances that includes thousands of job cuts and a raft of asset disposals. Rising charges linked to past misconduct have undermined his efforts, sapping equity reserves and contributing to the first annual loss since 2008 last year.
Deutsche Bank shares fell 4.9 percent to 17.165 euros at 4:33 p.m. in Frankfurt. They have decreased about 24 percent this year.

While Deutsche Bank had been "slow" to reach some settlements in the past, it will probably resolve its two largest legal cases -- a probe into its sales of U.S. residential mortgage-backed securities and an investigation into alleged money laundering at the Russian unit -- later this year, Cryan said.
'Slow Start'
The co-CEO, who took over from Anshu Jain last year, has previously said he "would be incredibly disappointed" if the legal charges were "huge." Deutsche Bank had 5.5 billion euros ($6.1 billion) set aside for fines and legal settlements at the end of the year, according to its filings.
Cryan's overhaul has been complicated by record-low interest rates, plunging energy costs and cooling emerging-market growth. Deutsche Bank's 30 percent decline in fourth-quarter investment banking and trading revenue added to investor concerns over the firm's ability to boost profitability.
The first quarter, which usually generates the largest share of revenue, "hasn't been very strong" this year, according to the co-CEO.
'Challenging Conditions'
"We've got to make ourselves more efficient, we've got to maintain to some extent our revenues, but don't forget we're selling a lot of businesses," Cryan said. Revenue at the lender's markets business is "obviously going to be down in the quarter because everyone else's are, but we're exiting lots of businesses too."
At UBS Group AG, CEO Sergio Ermotti echoed Cryan's comments about first-quarter performance, saying at the same conference that "challenging conditions" continued into 2016. Activity levels across the advisory industry have "slowed markedly," while the equities business showed "flat volumes in Europe and sharp declines in Asia," he said.
"In challenging market conditions like those we have seen this quarter, we would consider performance to be satisfactory if the investment bank covers its cost of equity," Ermotti said. "I'm confident we will be able to achieve this" for the first quarter.
Investment banking and trading revenue at European firms will probably fall 30 percent this year from last, according to Piers Brown, an analyst at Macquarie Group Ltd. "If you came out of January and February not expecting a bad year, then you really needed a reality check," he said.
Cryan said another element that will weigh on profitability this year is higher provisions for delinquent loans. Last year, the bank set aside 956 million euros.
In the oil and gas industry, Deutsche Bank may have "dodged a bullet" because it has extended fewer loans to exploration and production companies than some of its competitors, according to the co-CEO. "We might lose a hundred million or so," he said. "It's the sort of provision level that we expect from this book."
Before it's here, it's on the Bloomberg Terminal.
LEARN MORE