Clinton Sweeps Sanders Across Four Primary States
By and
Results to be settled in Missouri vote with Sanders leading

Clinton looking to extend delegate lead with victories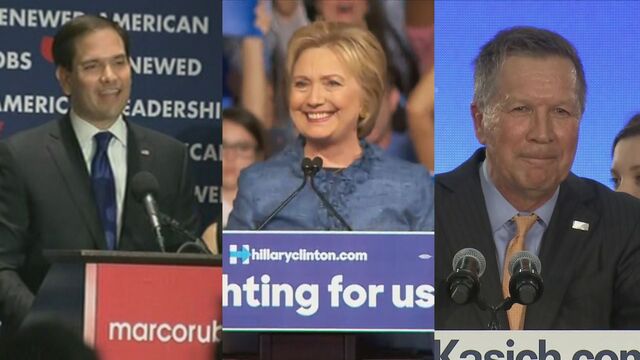 Hillary Clinton turned her sights on the general election and Republican front-runner Donald Trump Tuesday after decisive wins in the Florida, Ohio, Illinois and North Carolina Democratic primaries strengthened her grip on the party's nomination.
The four victories on one of the most delegate-rich nights of the Democratic presidential contest had her supporters confident that she would emerge from Tuesday with a virtually insurmountable delegate lead over Bernie Sanders. And even with the Missouri primaries outstanding, Clinton used her victory speech in Florida to address a showdown with Trump in November.
"Tonight, it's clearer than ever this may be one of the most consequential elections of our lifetimes," Clinton said at a rally in West Palm Beach. "Our commander in chief has to be able to defend our country, not embarrass it, engage our allies, not alienate them, defeat our adversaries, not embolden them."
Signalling the campaign is entering a new phase, Clinton explicitly targeted Trump, saying that the next president "has to bring our country together so we can all share in the promise of America."
Clinton entered the night leading the polls in each of the states. But her victories will re-energize her campaign after a surprise loss to Sanders last week in Michigan. Her win in Ohio, especially, will help allay fears among Democrats that she couldn't win in states dominated by white, blue-collar voters where Sanders's populist, anti-free trade message has resonated.
Wide Margins
Like other states where Clinton has had her biggest wins, Florida and North Carolina have large proportions of minority voters. With almost all precincts reporting in Florida, Clinton had 64.5 percent of the vote to 33.3 percent for Sanders, according to the Associated Press. In North Carolina, Clinton drew 54.6 percent and Sanders 40.8 percent with all precincts reporting. She was leading Sanders in Ohio 56.5 percent to 42.7 percent with 99 percent of precincts in.
The Illinois contest was closer, with Clinton holding a 50.5 to 48.7 percent vote with 99 percent of precincts reporting. Still, the narrow win was a welcome one, particularly in the state where Clinton grew up.
Clinton led Sanders in Missouri by less than a percentage point with 99 percent of precincts reporting; the AP said that race was too close to call.
A total of 621 delegates are at stake for Democrats on Tuesday, and all of the contests award them on a proportional basis. As a result, making up ground will be tough for Sanders with Clinton running up wide margins. Florida will award 214 delegates, with Ohio offering 143, North Carolina 107, and Illinois 156.
Delegate Count
Clinton entered the night with 768 pledged delegates compared with 554 for Sanders, with 2,383 necessary to win the nomination. When you include superdelegates -- party officials and lawmakers allowed to back whoever they want -- Clinton's lead expands to 1,235 to 580 for Sanders, according to a tally compiled by the Associated Press. Clinton aides said they expect the candidate will have a lead of at least 300 pledged delegates after Tuesday.
Sanders had been looking to pull an upset in Ohio after his victory in neighboring Michigan, a state that is demographically similar. Sanders has been able to capitalize on previous victories to raise money from small donors, helping him extend his fight for the nomination. He was already signaling his intention to fight on by scheduling a rally Tuesday night in Arizona, which holds its primary March 22. The schedule ahead features several caucuses, which have tended to favor Sanders.
In Arizona, which votes on March 22, Sanders delivered a spirited version of his standard stump speech and gave no indication he would slow his campaign. He criticized Clinton for accepting donations from corporate interests and giving paid speeches to Wall Street firms, and called on her to release the transcripts of those addresses.
"We cannot go forward unless we deal with the realities of American society today," Sanders said in Phoenix. "And that is what we're going to do."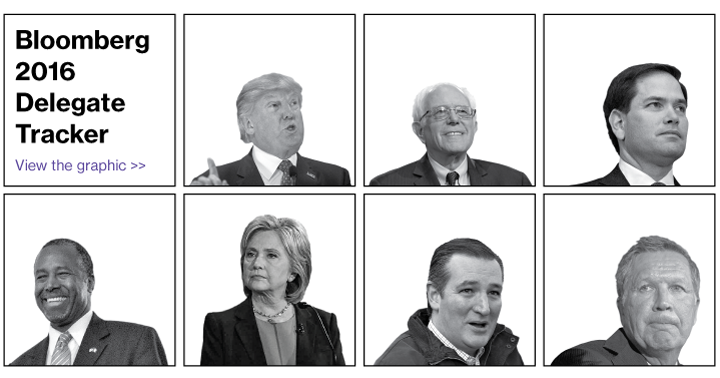 Midwestern States
The Midwestern states are particularly important for the Democrats. While Ohio and Missouri have been swing states in recent presidential elections, Michigan and Illinois have been solidly Democratic in the past six. If Clinton had sustained tough losses in addition to her stumble in Michigan, it would likely have prompted hand-wringing among Democrats concerned that Trump's campaign could make inroads in manufacturing areas with his frequent criticism of trade imbalances with countries such as China and Mexico.
The emphasis both candidates have put on the March 15 contest is evident from their ad spending heading into Tuesday night. Sanders had committed $9.8 million in radio and TV commercials in the five states since March 8 while Clinton was slated to spend $6.7 million, according to estimates by Kantar Media's CMAG, which tracks political ads.