Chinese Pharma Tycoon Looks For Overseas Health-Care Deals
Bloomberg News
Luye Group seeks to buy hospitals overseas to gain new brands

Liu wants to tap rising Chinese demand for better health care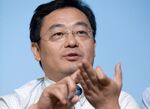 Liu Dian Bo, chairman of China's Luye Group Ltd., is on a hunt for health-care businesses to acquire overseas as he seeks to expand beyond pharmaceuticals and tap rising demand from more affluent Chinese for higher-quality services.
After agreeing to buy an Australian hospital operator in a $688 million deal last year, the group is looking for more hospital assets to acquire outside China, Liu said in an interview this week in eastern China's Jiangsu province. A professor-turned businessman, he plans to list Luye Group's health-care arm in Asia within three years.
The group already has a publicly traded pharmaceutical business, Luye Pharma Group Ltd., which sells drugs for conditions including cancer and cardiovascular disease. Liu's goal is to now introduce more international hospital brands into the country as patients show a greater willingness to pay for better care. Public hospitals in China are overburdened by the rising incidence of illnesses like heart disease and diabetes, and patients often face overflowing waiting rooms and lengthy lines.
Luye Group is looking for the hospital deals in regions including Australia, Singapore, Southeast Asia, the U.S. and Europe, and is putting a special focus on those with treatment specialities that can be useful for China. By buying up established foreign brands, it would gain the financial ability to raise funds and bundle them later into an initial public offering. Liu plans to accomplish that within three years, possibly through a listing of that business in Singapore, Hong Kong or mainland China. 
"Health-care assets have to be listed because the cycle is long and requires large amounts of funding," Liu said.
International Expansion
The group has also acquired Singapore-based Vela Diagnostics to venture into precision medicine, while its affiliates have made similar acquisitions in other parts of Asia.
The pharmaceutical company hopes to have the extended-release version of its Parkinson's drug to be approved in the U.S. by as early as the second half of 2018. Extended release medicines typically deliver their ingredients more slowly into the bloodstream. It expects another schizophrenia medicine approved in the U.S. in late 2017.
While Luye Pharma probably won't see new drugs coming out of the existing pipeline over the coming year due to regulatory delays, it is looking at other ways to boost growth, Liu said. "We are still hoping to push out some relatively large products to the market" through acquisitions, cooperation or business development domestically or overseas, said Liu. 
Luye isn't likely to license its drugs to another company to sell overseas, and prefers to build its own global capacity through M&A and tie-ups to market products in developed markets. 
A former biology lecturer, Liu started his own business with two partners in 1994. China's government had around then begun taking steps to encourage private entrepreneurs. By 2014, Luye Pharma had revenue of about $3.2 billion yuan ($480 million).
Luye Pharma listed in Hong Kong in July 2014. As the stock surged, the value of his holdings in the company had crossed $1 billion by August that year. Luye Pharma shares have dropped about 38 percent over the past year as Chinese stock markets have declined. Liu's holdings in Luye Pharma are now worth about $754 million, according to the Bloomberg Billionaires Index.
Headquartered in Singapore, Luye Group has the majority of its operations in China
The parent group will consider injecting assets into the listed pharma company, but will have to wait for a future opportunity to do so because this isn't the right time, said Liu when asked if he planned on giving some products to the listed branch to boost growth.