China's Li Seeks 'Win-Win' for Growth-Reform Plan Analysts Doubt
Bloomberg News
Premier cites difficulties and hopes in economic restructuring

Doesn't see conflict between economic reforms and development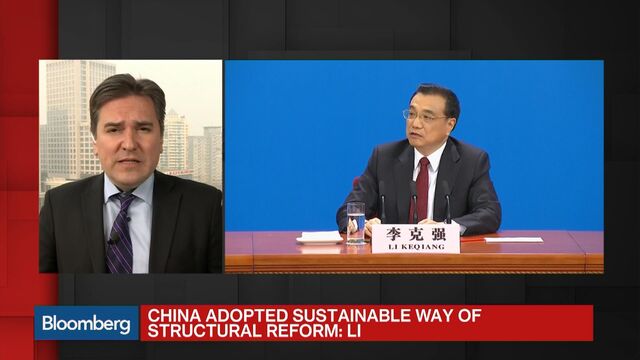 Chinese Premier Li Keqiang outlined plans to cut back bloated industries without mass layoffs and still achieve growth targets that are being tested by rising debt and slowing global growth.
Policy makers will use "innovative measures" to keep the economy on track while taking strong steps to re-employ and resettle workers who lose jobs, Li told reporters Wednesday at an annual press conference in Beijing. An upbeat, confident Li parried reporters questions for two hours, saying he hopes for a "win-win" from the economic restructuring that a year ago he said would be like "taking a knife to one's own flesh."
Li said reform and development aren't in conflict, arguing structural change can release market vitality and drive development while avoiding a hard landing. While Li said he sees more hope than difficulty ahead, investors are concerned China's target of growth averaging at least 6.5 percent through 2020 will spur monetary easing that adds to yuan depreciation pressure and exacerbates debt that has surged to almost 250 percent of gross domestic product.
"We have the promise of a painless reform process with no mass bankruptcies or layoffs, and without radical liberalization of the services sector to boost growth there," said Michael Every, head of financial markets research at Rabobank Group in Hong Kong. "You can't have both 6.5 percent growth and painless reform, even in China."
Cyclical, Structural
Li is striving to shift China's economy away from an over-reliance on investment and cheap exports after growth slumped to a 25-year low of 6.9 percent last year, balancing the need for cyclical support with structural reform. His comments come amid waning international confidence in China's economic stewardship after surprise currency moves and a $5 trillion equities rout last year rattled markets around the world.
The economy is still at an early stage of industrialization and urbanization, and retains room to grow on those fronts, while new drivers including e-commerce and advanced manufacturing will help fuel expansion, Li said at a news conference concluding the 12-day National People's Congress. Acknowledging there will be "ups and downs," Li said policy makers will remain focused on structural reforms.
China faces headwinds from slumping exports and stocks, to slowing industrial production and retail sales. Currency volatility and surging capital outflows following a shock devaluation last year have prompted plans to draft a Tobin tax on currency trading.
Growth Target
Gavekal Dragonomics calls the the 6.5 percent average growth target "incredible." JPMorgan Chase & Co. says a sustainable pace is "much lower" than the 6.5 percent to 7 percent range officials target for this year.
Li got 98.4 percent support for his annual economic work report from the ceremonial legislature. While that was actually the highest disapproval rate he has received since taking office in 2013, that's support a U.S. president could only dream of in Congress.
"China's government does not see a trade-off between short-term growth and long-term reform," Bloomberg Intelligence economists Tom Orlik and Fielding Chen wrote in a note. "They are confident 6.5 percent growth is achievable, and ready to ramp up policy support to get there. They view financial risks as real but manageable, even as lending accelerates. Root and branch industrial restructuring is not on the agenda."
'Fiery Eyes'
Li said China needs to be on the lookout for financial-market risks with "golden-gaze fiery eyes," a reference to the Monkey King, a character in the Chinese novel "Journey to the West" who has the ability to see evil in any form.
Li pointed to stark contrasts in the economy, its old rust-belt regions with heavy industries in a slump while regions that have embraced new industries thrive. He argued that growth last year of almost 7 percent when the global economy struggled was achieved without adopting strong stimulus and said the nation followed a more difficult yet sustainable path of structural reform.
"There may be small ups and downs in China's economic performance," he said. Should the economy look to be slipping, "we have innovative measures to stabilize China's economic development."
A 100 billion yuan ($15.3 billion) special fund set up for the resettlement of laid-off workers can be increased if needed, he said. Cutting excess industrial capacity will bring about sustained and sound growth, he said.
"Li used all the buzzwords for growth but discussed none of the realities," said Andrew Collier, an independent analyst in Hong Kong and former president of Bank of China International USA.
— With assistance by Kevin Hamlin
Before it's here, it's on the Bloomberg Terminal.
LEARN MORE