Britain Rethinks Cash in Race Osborne Can't Afford to Lose
By and
Chancellor wants U.K. to become global center for fintech

Technology behind digital currencies seen as growth industry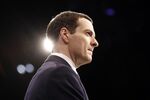 Mark Carney was in charge of the Bank of England for only about 10 weeks before he started experimenting with money.
That initial foray by the governor into re-imagining the U.K.'s currency will take shape later this year with the introduction of its first polymer banknotes. But his institution is also at the vanguard of a more radical thought exercise on cash itself. With the enthusiastic support of the British government, a key research focus of the central bank is now on digital money and the blockchain technology underpinning it.
Britain's willingness to question such a visible economic manifestation of the state contrasts with a slower approach to other innovations: the country is adopting plastic banknotes long after nations such as Australia, for example. The speed with which the digital-currency agenda has captured the imagination of U.K. officials hints at its potential strategic value for both central banking and the economy.
"The U.K. has the most to gain by embracing the technology and the most to lose by not doing so," said Robert Sams, chief executive officer of London-based Clearmatics Technologies Ltd., a company working with UBS AG on digital-coin technology. "If you want to maintain the vision of being one of the premium financial centers of the world, then you have to stay on top of this."
Research Funds
A year ago, the Treasury released a paper noting the "considerable promise" of digital-currency technology, and increased research funding. The government's chief scientific adviser, Mark Walport, weighed in earlier this year, saying it might "redefine the relationship between government and the citizen in terms of data sharing, transparency and trust."
While the 2015 Treasury report already mentioned BOE research efforts, bank Chief Economist Andy Haldane and Deputy Governor Ben Broadbent both declared growing interest in the past month, delivering speeches on the potential benefits to society from the lower settlement costs offered by "distributed-ledger technology," the blockchain software behind digital currencies like Bitcoin. Broadbent even wondered whether one day, all citizens might have an account with the central bank.
Other countries such as China are also studying digital currencies, and the Bank for International Settlements has a working group looking at the issue. Jens Weidmann, president of Germany's Bundesbank, speculated in a speech last month that digital currencies could soon be used to trade financial products.
Fintech Hub
Yet the U.K.'s zeal on the matter stands out -- and while lower settlement costs might interest the Treasury, there is a simpler motivation too. With Chancellor of the Exchequer George Osborne likely to reveal lower economic forecasts on Wednesday, when he presents his budget to Parliament, he has a clear incentive to nurture an area with growth potential and stake London's claim in financial technology, or fintech, against rivals such as San Francisco and New York.
Osborne went so far as to meet Apple Inc. Chief Executive Officer Tim Cook in November, discussing payment technologies and saying afterward that U.K. policy makers "will go out of our way" to make Britain a global center for fintech. Officials attribute almost a 10th of the country's economy to financial services, and say 135,000 people work in financial-services technology.
"A lot is at stake here," said Mike Halsall, a technology entrepreneur who helps advise the U.K. government's Office for Science on fintech and blockchain issues. "We're in a position where we could either lose a lot of jobs or gain a lot of jobs depending on how we manage fintech. It feels a bit to me like a knife-edge situation."
U.K. companies are also looking to get in on the act. Market operator ICAP plc said on Tuesday it has completed a proof of technology test case for a distributed ledger using blockchain.
Central Control
Distributed-ledger technology may also pique the interest of authorities for reasons more associated with privacy concerns, such as clamping down on tax evasion, and offering the central bank greater control and insight on the economy.
'Surgical Policies'
"Every unit of digital currency is recorded from the moment it's issued to the very last transaction," said Professor Andrei Kirilenko, Director of the Centre for Global Finance and Technology at Imperial College Business School in London. Authorities could see "where the money is in close to real time. Knowing this, central banks can be much more surgical in policies. Instead of moving the interest rate for everyone, the central banks can move rates for some participants."
The result for now is that Britain's officials are pursuing their own research and giving private-sector pioneers room to experiment. While the Treasury's 2015 paper expressed concern over how private digital currencies such as Bitcoin might help criminals, authorities are keen to harness the underlying technologies.
"The regulatory environment in the U.K. is far easier to deal with than in the U.S.," said Sams of Clearmatics. "The message from the government has been very pro-fintech," and "the regulators have been very engaged from the very early days, particularly the Bank of England."