Britain Is Trapped Regardless of `Brexit' Vote, Varoufakis Says
by and
Former Greek finance minister says U.K. should not leave EU

U.K. wants to be in Europe's single market: ex-finance chief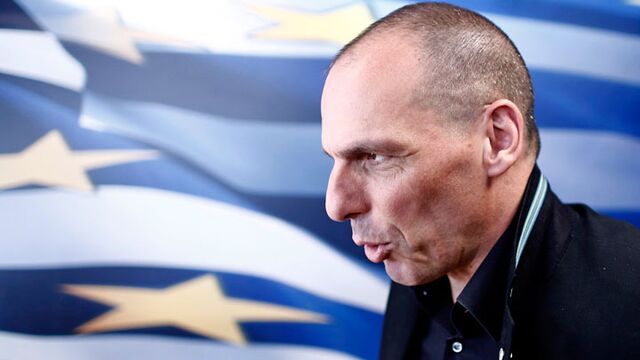 The U.K. "can't really leave'' the European Union and the country wants to remain part of the EU single market even if it votes in favor of "Brexit" in June, former Greek finance minister Yanis Varoufakis said.
"Whatever our criticism might be of the European Union, we are under the spell of the 'Hotel California' dictum: you can check out any time you like, but you can never leave," Varoufakis told Francine Lacqua in an interview Wednesday on Bloomberg Television.
While in office, Varoufakis fought against the austerity imposed on his country and became a global celebrity even as he angered fellow EU finance ministers by campaigning against budget cuts imposed on Greece. He quit in July 2015 after less than a half year as tensions with the bloc escalated.
Late last month, Jeremy Corbyn said his U.K. opposition Labour Party was working with the former Greek finance minister.
Corbyn, Advising
"Varoufakis is interesting, because he has obviously been through all the negotiations," Corbyn told his local newspaper, The Islington Tribune. He said Varoufakis had met Labour finance spokesman, John McDonnell, and would be advising Labour in "some capacity."
Varoufakis said in the Bloomberg interview the U.K. should "absolutely not" leave the 28-nation EU, and should instead "fight with us" to change it.
He said the U.K. wants to be part of the single market, which he said includes free trade, common industry standards, common labor protection rules and common environmental standards.
"To do that, you need to have common sovereignty of the executive, judiciary and law-making," according to Varoufakis.
He said in a blog post last month that U.K.'s exit would "inexorably cause ruptures in the EU that will lead to the Union's effective dismantling." The U.K. will hold a referendum on membership in June.
Before it's here, it's on the Bloomberg Terminal.
LEARN MORE