Bill Gross Sold a Client's Valeant Bonds Three Months Ago
by
Compares the drug company to over-leveraged conglomerates

Says leverage plus pricing pressure a `deadly combination'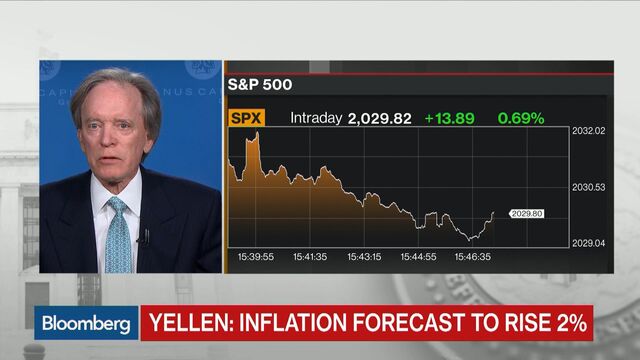 Bill Gross said he sold Valeant Pharmaceuticals International Inc. bonds three months ago that were held in a client's account he had taken over.
Gross, speaking in an interview Wednesday on Bloomberg Television, compared Valeant to the highly leveraged conglomerates that once used borrowed money to make acquisitions aimed at boosting earnings. 
"That's to a certain extent what's happened here," Gross said in the interview with Tom Keene.
Valeant bonds plunged Tuesday by the most ever, pushing the yield on its most actively traded securities above 10 percent for the first time after the company slashed its forecast for the year and warned that it may breach debt agreements. Standard & Poor's and Barclays Plc lowered their outlook on the debt, and Moody's Investors Service cut its credit rating on the company deeper into junk.
Gross, manager of the $1.3 billion Janus Global Unconstrained Bond Fund, said the Valeant bonds were in a separate account that came to him about 12 months ago. In addition to taking on debt, Valeant, like other drug companies, is subject to political pressures on the prices it charges customers.
"The combination has been deadly for the price of that stock going forward," he said.
Valeant's stock, once a favorite of growth investors, is down 67 percent this year and more than 85 percent since its August peak.
Before it's here, it's on the Bloomberg Terminal.
LEARN MORE