Back-Office Blues Hit India as Service Exports Start to Slow
by
Weak global demand, maturing industry lead to slower growth

Current-account deficit could widen without services buffer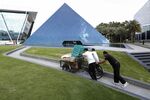 India's position as the world's back office may be slipping away.
For years, India's services exports had grown fast enough to help bridge its merchandise trade deficit. That expansion came to a halt last year as weak global demand and increased competition made it harder for Indian companies to win new markets, leaving the country more vulnerable to oil price swings or jumps in imports.
"If commodity prices remain stable or harden a little bit, then your trade deficit will rise," Dhananjay Sinha, an economist at Emkay Global Financial Services Ltd. in Mumbai, said by phone. "If there is not enough support from the services exports, your current account deficit would actually widen pretty quickly."
The 12 percent decline in services exports in January, the third monthly drop, is "a matter of concern," Sinha wrote to investors. The decrease also shows the importance of Prime Minister Narendra Modi's plan to boost manufacturing and help create jobs for a burgeoning workforce.
India's development model differs from emerging-market peers that saw high growth due to export-led manufacturing. The services industry, less constrained by the red tape and poor infrastructure that deterred companies from setting up factories, took off thanks to a large English-speaking population and lower labor costs.
Services exports accounted for 32 percent of India's total exports in 2013, compared with 8 percent in China, according to a 2015 paper published by the International Monetary Fund. Services exports that include computer services, business support and tourism are slowing as global growth stutters and countries such as the Philippines catch up.
"You have the industry itself maturing, the demand pool is now growing at a much slower pace, plus you have increased competition," said Sonal Varma, an economist at Nomura Holdings Inc. in Mumbai. "Right now I feel it's largely the demand weakness that's showing up in weaker growth."
Operating margins at companies in the S&P BSE Information Technology index were squeezed in October-December to the smallest since 2011, even as a weaker rupee boosted local-currency revenue of industry leaders Infosys Ltd. and Tata Consultancy Services Ltd.
Industry group National Association of Software and Service Companies forecasts export growth of as much as 12 percent in the fiscal year starting April 1. Eight years ago, its forecast was for an expansion of more than 30 percent. India's services exports grew 0.2 percent in 2015, slowing from 5 percent in 2014 and 8.2 percent in 2013.
To strengthen its edge, India needs to explore new, high-value areas for services exports, such as research and development, according to the IMF study, which also recommends increasing the value and quality of manufacturing exports.
Indian central bank Deputy Governor H.R. Khan echoed the recommendations this month. Exports need to be revived if the current-account deficit is to be sustainably contained once oil prices rebound, he said. The shortfall will probably shrink to $3 billion in October-December from $8.2 billion the previous quarter, according to the median of 15 estimates in a Bloomberg survey of economists.
"Even though Indian service exports are sophisticated, India can benefit from
overall diversification and uniqueness of service activities," IMF economists wrote.
Before it's here, it's on the Bloomberg Terminal.
LEARN MORE