Valeant Shatters Creditor Calm as Debt Casts Bigger Shadow
by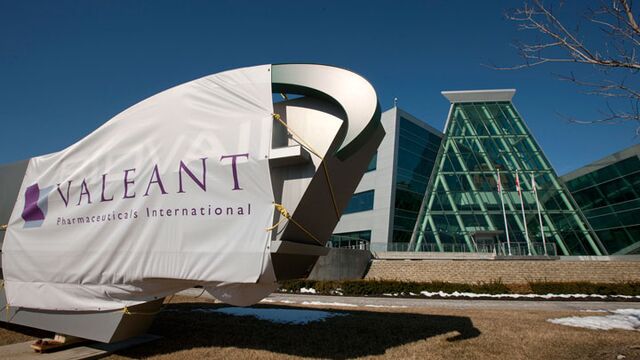 Valeant Pharmaceuticals International Inc. is losing the confidence of its biggest investor base: debt markets that lent the drugmaker more than $30 billion to fund its rapid expansion.
The company's bonds plunged Tuesday by the most ever, pushing the yield on its most actively traded securities above 10 percent for the first time after it slashed its forecast for the year and warned that it may breach debt agreements. Standard & Poor's and Barclays Plc lowered their outlook on the debt, and Moody's Investors Service cut its credit rating on the company deeper into junk.

Creditors are starting to lose faith that Chief Executive Officer Michael Pearson will be able to execute on his promise of rapidly cutting Valeant's debt load. A delay in filing its annual report with regulators is also complicating the company's standing in debt markets. Failing to file its so-called 10-K before Wednesday will trigger a technical default under its credit agreement, restricting it from using its credit line, the company said.
"Investors have been trying to give them time to work through their issues, but new things keep popping up," said Matthew Duch, a money manager at Calvert Investments in Bethesda, Maryland, which oversees more than $13 billion in assets. Duch said he'd hoped to buy Valeant bonds at a discount but decided against it after the earnings call.
The company's bonds fell even as Pearson reiterated on an investor call that Valeant will pay down its debt as fast as it can.
Valeant spokeswoman Laurie Little declined to comment.
Bonds Plunge
Valeant's longest-dated bonds, $3.25 billion of 6.125 percent notes maturing in 2025, dropped 1.75 cents on the dollar Wednesday to 74.625 cents after losing more than 10 cents the day before, according to Trace, the bond-price reporting system of the Financial Industry Regulatory Authority. That's the lowest level since they were issued at par last year. The debt was the most actively traded corporate security tracked by Trace on Tuesday.
"You want to be an investor, not a gambler," Duch said. "This could be a sign of capitulation."
The company said that it will pay down at least $1.7 billion of debt in 2016, less than the minimum goal of $2.25 billion it declared in December.
Valeant's estimate that it won't be able to reduce debt as quickly as it'd promised that prompted Moody's to cut the drug maker's credit rating to B1, four steps below investment grade, from Ba3 following a review that began Feb. 29, the credit grader said in a statement Tuesday. The rating firm raised concern about operating uncertainties as well as risks facing the company given "limited opportunities" to raise prices on products.
S&P warned it may lower its equivalent B+ rating on the company due to the lower earnings forecast and delay in the filing of the annual report, the credit grader said Wednesday.
As of last week, the company's bonds hadn't sold off as much as its shares had amid news of a regulatory probe that came the day the drugmaker pulled financial guidance when Pearson returned from medical leave. Debt investors said they were confident about the strength of Valeant's businesses and wanted to give Pearson time to adjust to work.
But the lower earnings guidance revealed Tuesday boosts concerns about management's ability to effectively navigate the business through a hard operating environment, said Barclays analysts led by Shubhomoy Mukherjee. The British bank reduced its outlook on the company's notes to market weight from overweight.
'Further Concerns'
"We believe that the extent of today's revision, relative to the company's initial guidance, will raise further concerns regarding management's credibility and its effectiveness in managing the business through a difficult operating environment," Mukherjee wrote in a report.
The Barclays analysts pointed to the $1.5 billion reduction in revenue guidance as a major problem. They also suggested weakness will extend longer than expected and affect parts of the business that had been considered "safe havens."
Valeant also said it won't be able to file a 10-K before Wednesday, which it said will put it in violation of requirements under its bond indentures and trigger cross-defaults that will restrict it from being able to tap its credit line.
Moody's left the company's ratings on review for further downgrade because of the late 10-K filing and because of uncertainties related to the ad hoc committee's pending review, among other concerns.
Management said they will begin asking lenders next week to amend the credit agreement so that a default is waived.
Before it's here, it's on the Bloomberg Terminal.
LEARN MORE