Trump's Fundraising for Others Left Deep Roots
The Palm Beach County GOP hopes to raise more than $300,000 at an upcoming event where Trump will deliver the keynote.
By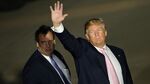 He might be self-financing his campaign, but Donald Trump is no stranger to political fundraising.
His bundling skills, honed over decades, will be put to use five days after the March 15 primary in Florida, where the billionaire developer will deliver the keynote speech to a sold-out event for the Republican Party of Palm Beach County. The event, which organizers expect will bring in more than $300,000, has been held for the past four years at Trump's Mar-a-Lago Club.
Trump hasn't hidden the fact that he has contributed widely to campaigns in the past, to Republicans and Democrats alike, and even to candidates he's now had to battle for the nomination. He's recently been coy, however, about whether he'll raise money for the general election should he win the party's nomination, saying he has yet to make a decision. His experience not just giving but raising money for others suggests he has the connections to amass a formidable war chest.
"The first time I met Trump was at an event he had at the Trump Tower for Jeb Bush when he was running for governor of Florida," said Bill Palatucci, a longtime confidant of New Jersey Governor Chris Christie.
When Christie endorsed Trump last month at a campaign appearance in Fort Worth, Texas, Palatucci was there. A key fundraiser for the Republican Governors Association when it raised $100 million in 2014, Palatucci said he's not sure what Trump's plans are for the general election, but he will raise money for him.
Since 2008, according to a database of fundraising events maintained by the nonpartisan Sunlight Foundation, Trump has raised money from donors writing checks ranging from $3 to $25,000. He raised funds for the 2012 presidential campaign of Mitt Romney, who is now trying to keep Trump from winning the nomination, and also for former Representative Allen B. West of Florida, the Tea Party firebrand who served one term in the House after winning in the Republican wave of 2010. In October 2014, he was the prime attraction at an event for Representative Steve King of Iowa, and in May of that year he lent his name to a fundraiser hosted at one of his golf courses for Iowa Governor Terry Branstad.
Palatucci, who attended the event for Branstad, said that while Trump's name was on the invitation to the luncheon fundraiser for Branstad, it was "completely a Chris Christie event." The donors, who campaign finance records show contributed $86,000 on the day before and the day of the event, were all in Christie's network. They met for a lunch at Trump National Golf Course in Bedminster, New Jersey, with Trump in attendance.
Trump and Christie have crossed paths on the fundraising circuit before. In 2015, Christie headlined the same Palm Beach County Republican fundraising event, called Lincoln Day, that Trump hosts on Sunday.
Michael Barnett, the Palm Beach County party chairman, said the event last year brought in $302,000 and they hope to beat that this weekend. He said they've increased the amount of money they've raised every year that Trump's been involved. 
Among the bigger donors for the Lincoln Day event last year were Amway co-founder Richard Devos and his wife Helen; Gerald Jordan, the founder of Hellman, Jordan Management; and Florida Crystals Corporation, owned by the Fanjul family. The company has contributed $350,000 to the super-political action committee supporting Marco Rubio.
Barnett wouldn't say whether those donors had given again in 2016, but he stressed that Trump had sold out the fundraiser in two days. "We'll have big donors who have given before," he said. "And we have many other large donors who are attending for the first time, drawn by their interest in Donald Trump."
Bill Diamond, a real estate investor who has known Trump for 40 years, initially backed Rubio, but switched his allegiance to Trump, he said, in the hopes of unifying the party behind a strong candidate. Diamond, a bundler for Senator John McCain's 2008 campaign, said he'd do the same for Trump. "I'd like to help him any way I can, if he asks," he said.
John Slavic, another donor who will attend the March 20 fundraiser in Palm Beach, said he's supporting Texas Senator Ted Cruz for president. Ultimately, Slavic said, the local party will line up behind whoever wins the nomination.
Barnett agreed, saying, "What's the alternative, give to Hillary or Bernie?"
Slavic's experience illustrates the overlapping fundraising networks of the Republican candidates. "I met Ted Cruz, ironically, at Donald Trump's house when he was a speaker at the same event a few years ago," Slavic said.