These Custom, NYC-Made Surfboards Will Maximize Your Fun
Token's surfboard shaper Christian Boalt makes stylish, speedy beach accessories
By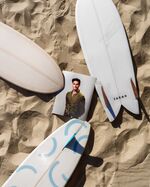 Size matters when it comes to buying a surfboard. And sometimes smaller can be more fun, says Christian Boalt, the owner of Token Surfboards in New York. Boalt grew up surfing near his home in West Palm Beach, Fla. He moved to Brooklyn after college and found the waves there just as "mushy" (no dramatic point breaks like on the Pacific). So he began making surfboards that were 5 or 6 feet long—standard boards are about 9 to 10 feet—and lighter, faster, and easier to carry on the subway.
With his wife, designer Lisa Schick, he customizes each board depending on a buyer's preference (colors, length, thickness) and shapes each one by hand using sandpaper and wooden blocks. He then coats the board with fiberglass. The result is a great-looking, one-of-a-kind product that rides better than anything you'd buy off the rack. "The point of my job is to maximize how much fun you can have during a day at the beach," Boalt says.
From $600; tokensurfboards.com.
Before it's here, it's on the Bloomberg Terminal.
LEARN MORE