Praising Putin on Syria Like Lauding Ex-Wife-Beater, U.K. Says
by
Foreign secretary slams Russian intervention in Parliament

Civilians bombed, hospitals and schools hit, Hammond says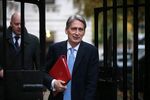 U.K. Foreign Secretary Philip Hammond attacked President Vladimir Putin over Russia's intervention in Syria even as he began to pull his troops out of the Middle Eastern country, saying that welcoming the withdrawal would be like lauding a husband who'd given up abusing his spouse.
"Somebody goes into another country, starts bombing civilian populations, destroying hospitals and schools," Hammond told the House of Commons in London on Tuesday. "If, and it's still a big if, they do decide five months later that they've done enough, let's not give them too much praise. It's a bit like: 'did he stop beating his wife?'"
Putin ordered a partial pullout of Russian forces from Syria on Monday after his intervention last year in support of Bashar al-Assad's regime turned the tide of the five-year conflict. While Russia said it was targeting terrorists including members of Islamic State, the U.K., the U.S. and Germany have accused Putin of also hitting civilians and more moderate forces opposing Assad.
"The fact that they're there in the first place is something that we have to continually protest about," Hammond said. "We certainly should not give them any credit for simply withdrawing from these illegal activities."
Hammond's comments may add to already soured relations between Russia and the U.K. The Foreign Office summoned the Russian ambassador in January to protest a "flagrant disregard" for international law after a judge found that Putin probably approved the 2006 murder in London of dissident ex-spy Alexander Litvinenko. Russia is also the subject of EU sanctions since its annexation in 2014 of Ukraine's Crimea peninsula.
Before it's here, it's on the Bloomberg Terminal.
LEARN MORE