Mobius Optimistic as Samsung, Hyundai Join Governance Bandwagon
by
`First step in the right direction,' says Templeton executive

Charlemagne Capital says evidence still needed on governance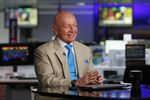 When two of South Korea's largest companies announced shareholder-friendly measures on Friday, Mark Mobius couldn't help but take notice.
"It's a first step in the right direction," said Mobius, executive chairman of Templeton Emerging Markets Group at Franklin Resources Inc. that oversees about $700 billion globally. "We will welcome that change."
Samsung Electronics Co., the biggest member of the $1 trillion Kospi stock index, adopted a proposal to allow non-chief executive officers to be the chairman of the board. Hyundai Motor Co., the third-largest Korean company, on the same day announced its pledge to strengthen a committee for transparent management to reflect shareholder opinion.
South Korean companies are responding to President Park Geun-hye's pressure for change. Criticism of the country's family-run conglomerates, or chaebol, is growing as the government urges them to become more transparent and boost shareholder returns. To help kick companies into action, the government last year implemented tax penalties on those hoarding high cash reserves.
Dividend Payouts
The efforts are showing results. The total amount of payouts by 384 Kospi-listed companies rose 29 percent in 2015, according to data from the Korea Exchange on March 7, based on filings between December and February. Some 41 large-cap companies raised their dividend payouts 63 percent, the bourse said.
Despite the gains, Korean companies have a long way to go to convince some investors: they are still lagging regional rivals in terms of distributing earnings. The dividend yield for the Kospi 200 Index over the past 12 months is 1.81 percent, far behind the MSCI Asia Pacific Index's 2.9 percent, according to data compiled by Bloomberg. 
Global fund managers have voted with their feet, with foreign investors pulling $5.7 billion from South Korean equities in the past 12 months as the Kospi declined 0.8 percent. The benchmark stock gauge rose 0.3 percent at the close on Wednesday.
What investors want is "evidence" to show that Korean companies are indeed trying to improve their corporate governance, rather than displaying a string of policies, said Julian Peter Mayo, co-chief investment officer at Charlemagne Capital Ltd., in a March 10 phone interview from London. The measures to boost returns for investors will need to persist rather than remaining one-time events, Mayo said.
Stewardship Code
The National Pension Service has announced plans to blacklist companies that fail to raise dividends payout to a certain level required by the government. The Korean government is also planning to adopt a "stewardship code" -- conduct guidelines for companies to encourage institutional investors to more freely express opinions and monitor the companies even if it conflicts with management.
The Korea Exchange is also encouraging Korean companies to post English-language filings for foreign investors by giving a longer deadline. The number of such filings accounted for less than 1 percent of the total of about 15,000 filings last year, according to the Korea Exchange. Under current regulations, it is not mandatory for Korean companies to post in English.
Another possible move expected from chaebols would be more rights for minority shareholders, such as choosing director boards, Mobius said. Of about 1,700 listed companies in Korea, 764 have adopted electronic voting systems, to allow minority shareholders to vote remotely, according to data from state-run Korea Securities Depository. Roughly 269 of 764 companies applied for the system to the government this year.
Doubts still remain over the sincerity of chaebols' friendly moves for shareholders, according to Song Min Kyung, research fellow at Korea Corporate Governance Service, an independent institution co-launched by the Korea Exchange and a Kosdaq-listed companies' association.
"They seemed to adopt those measures after they had cynical responses from investors previously on their corporate governance," Song said. "If they really want to get trust from investors, they should be more open to conversation with a broad range of investors more sincerely."
Samsung's merger of its Samsung C&T Corp. and Cheil Industries Inc. in 2015 and Hyundai's property purchases in 2014 drew a backlash from some of their shareholders, denting expectation on improvements in corporate governance in Korea.
"Disclosure is still poor," Ewan Markson-Brown, investment manager of emerging markets equities at Baillie Gifford, an Edinburgh-based asset management firm that oversees $181.3 billion globally including $4.5 billion in Korea, in an interview in Seoul on March 8. "We are seeking improvements."
Before it's here, it's on the Bloomberg Terminal.
LEARN MORE