Merkel Allies Balk at Visa Waiver for Turkey in Refugee Plan
by and
German chancellor said to demand unity in her lawmaker caucus

State election losses revive criticism of open-border stance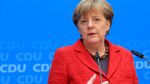 Angela Merkel's Bavarian allies said they oppose visa waivers for Turks traveling to the European Union, complicating the German chancellor's effort to secure an agreement with the Turkish government to stem the region's refugee crisis.
Bickering within Merkel's party bloc resumed after her Christian Democratic Union suffered losses in three German state elections last weekend and the chancellor said she wouldn't fundamentally change her open-border policy. At a closed-door meeting of her parliamentary group in Berlin on Tuesday, about 30 of the 311 lawmakers criticized her government's refugee policy, while Merkel appealed for unity, a CDU official said.
Merkel told the lawmakers that the visa waiver for Turkey had been agreed at the EU level, though not when it would kick in, and that it could be suspended at any time in case of security risks, according to the official, who asked not to be identified because the session was private. Before the meeting, a senior CDU lawmaker said election gains on Sunday by the anti-immigration Alternative for Germany demanded a response.
"We have to recognize that this was a warning," Michael Grosse-Broemer, parliamentary whip of Merkel's two-party bloc, told reporters in Berlin. "We can't create the impression that we can continue to accept such an influx of refugees."
Merkel will meet fellow EU government leaders for a summit in Brussels on Thursday to try to complete a deal between the 28-nation bloc and Turkey, which includes the visa pledge. The goal is to halt the chaotic crossings of the Aegean Sea to Greece, the gateway to the EU, after Germany took in most of the more than 1 million asylum seekers who arrived in the EU last year.
Bavarian Critics
Visa rules that ease travel from Turkey to the EU could create more difficulties than they solve, said Gerda Hasselfeldt, the parliamentary leader of the Christian Social Union. The CSU governs Bavaria, the main entry point for refugees arriving in Germany, and has a joint parliamentary group with Merkel's CDU in Berlin. 
"We don't want visa liberalization for Turkey," she said in Berlin, alluding to the country's political turmoil. "The situation in recent months in Turkey makes clear what kind of danger visa liberalization could entail. We don't want that."
Other EU nations have also voiced skepticism about opening the EU's borders to Turkish citizens. French President Francois Hollande said Saturday that he wouldn't support offering visa concessions to Turkey.
Merkel's domestic allies are publicly voicing frustration at her determination to stick with her approach. Christian Social Union head Horst Seehofer, her chief antagonist and Bavaria's premier, demanded that she change course in the face of public anxiety about the influx of asylum seekers.
Merkel's policy retains the support of the majority of her caucus, which comprises national CDU and CSU lawmakers, her parliamentary leader Volker Kauder told reporters Tuesday. She's counting on a deal at the EU summit, he said.
"The German government remains committed to a European solution," he told reporters. "We are sticking to our approach."
Before it's here, it's on the Bloomberg Terminal.
LEARN MORE