Lula Said to Agree in Principle to Take Brazil Cabinet Post
Anna Edgerton, Arnaldo Galvao and Raymond Colitt
Former president said to announce decision Wednesday morning

Opposition leaders say they would challenge his appointment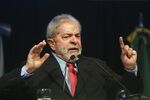 Luiz Inacio Lula da Silva, the former Brazilian leader facing criminal charges in a sweeping corruption probe, has agreed in principle to join President Dilma Rousseff's cabinet, according to a person close to the discussions.
Inviting the iconic, and controversial, politician to join her cabinet underscores the dire straits Rousseff is in as she faces the worst recession in over a century and struggles to fight off growing calls for her impeachment. The strategy runs the risk of backfiring, as it ties her fate to that of her mentor's. It's also prompting accusations that he's trying to protect himself from prosecution in the corruption probe, considering ministers enjoy special legal status.
QuickTake Brazil's Highs and Lows
"I don't understand how Brazilian institutions can permit something like that," said Monica de Bolle, a researcher at the Peterson Institute for International Economics in Washington. "The market's reaction is if the government is going for an all or nothing, who can guarantee that it's not all or nothing for the economy?"
Rousseff and Lula held a meeting on Tuesday evening in Brasilia to discuss the matter, including the terms of the new position and the strategy for announcing the news, the person said, asking not to be named because the decision isn't public. Lula will speak on Wednesday morning after meeting with his Workers' Party and with members of government's biggest coalition partner, the PMDB party, Folha de S.Paulo newspaper reported, without saying where it got information.
Ensure Support
Opposition leaders say they will challenge the appointment in court as an abuse of power designed to shield Lula from possible arrest. Leaders of the ruling Workers' Party proposed the nomination not only to protect Lula but also to help ensure support for Rousseff in Congress. Under Brazilian law, only the Supreme Court can probe, indict or imprison a cabinet member.
"It's her right to name ministers, but I don't know if it's the best solution for both," lower house speaker Eduardo Cunha told reporters in Brasilia. "I think it's highly unlikely that Lula as minister will improve the dialogue between the government and deputies."
The real and the Ibovespa stock index on Tuesday fell for a second session on investor concern that Lula could successfully use his renowned political skills to rescue Rousseff, while pushing for looser fiscal discipline. Brazilian assets had surged in the past two weeks on bets the president's ouster would pave the way for a government with a stronger mandate to revive growth.
Lula, if he accepts the offer, would focus on coordinating a plan to revive the economy by increasing spending on housing and growth-acceleration programs, Valor Economico said, citing a government official it didn't identify. The strategy would respect a limit for public spending as proposed by Finance Minister Nelson Barbosa, Valor said.
The economy is expected to shrink 3.4 percent in 2016 after contracting 3.8 percent last year, which would mark Brazil's deepest downturn in over a century. Rousseff is trying to revive investor confidence by shrinking the budget deficit, though members of her Workers' Party -- and Lula himself -- have criticized her austerity measures.
Impeachment Threat
Mass anti-government protests on Sunday fueled expectations that Congress will speed up impeachment proceedings against Rousseff. Congressman Cunha says he will work as quickly as possible to call for the creation of a congressional committee tasked with issuing a recommendation on the process.
A Supreme Court justice on Tuesday accepted a plea bargain from the former government leader in the Senate, Delcidio Amaral, who has alleged that Rousseff tried to interfere with investigations. He also indicated that Education Minister Aloizio Mercadante offered financial assistance to prevent him from testifying. Both Rousseff and Mercadante said the allegations are false.
Prosecutors last week charged the former president with money laundering. A request to arrest Lula now sits with federal judge Sergio Moro, who has already sent to jail dozens of business leaders implicated in the country's corruption probe, dubbed Carwash. Lula denies wrongdoing.
Analysts at political consulting firm Eurasia Group say the government's woes may motivate Lula to strike a bargain with the government's biggest coalition partner, the PMDB party. He could grant it greater power in the administration in exchange for support on the impeachment vote, analysts including Christopher Garman and Joao Augusto de Castro Neves said. 
Ruling Alliance
The former president has been meeting with PMDB lawmakers in recent weeks, though they haven't shown increased support for the administration. Party leaders didn't rule out breaking with the ruling alliance in the PMDB's national convention on Saturday and banned members from accepting new jobs in the government. While Lula's return to Brasilia could buy the government time, it may be insufficient to save it, said Harold Trinkunas, senior fellow at the Brookings Institution.
"Almost anything they do at this point starts to look like they're impeding judicial investigations that have become quite popular with many in Brazil," Trinkunas said. "So they're running out of room to maneuver to mitigate the damage from the case."
Before it's here, it's on the Bloomberg Terminal.
LEARN MORE