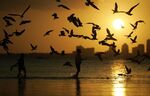 Life ain't bad in the top 1 percent, but in Atherton, California, it's even better: That's where the wealthiest Americans have had to put forth the least effort to accrue those earnings.
Average income for all households in Atherton is $425,775, almost six times the national mean. More striking, though, is that 69 percent of Atherton homes earn at least some "passive income" — returns such as dividends and rental payments — compared with just 21 percent for all U.S. households. Those Atherton households bring in a cool $177,773 each in the earnings alone, according to data compiled by Bloomberg.
Rounding out the top five cities where the richest have to try the least to get richer are: Palm Beach, Florida; Montecito, California; Indian River Shores, Florida; and Los Altos Hills, California. 
The rankings of the easy-money cities play well for California and Florida, with only two cities in the top 10 away from those coastal states: No. 7 Highland Park, Texas, and No. 8 Cherry Hills Village, Colorado.
Some 6,000 locations were considered from a pool of 30,000 Census Bureau listings. Those with insufficient data, or with fewer than 2,000 households, were eliminated. Of those 6,000 locations, Bloomberg calculated wealth percentiles based on average household income and collected further related data including earnings from dividends, interest or rental payments.
The Bloomberg calculations also provided some insight on broader trends in income inequality. If you think the rent is too damn high, it's easy to understand how the richest U.S. cities have less experience with this problem. In locations that boast an average household income in the top 1 percent nationally, fewer than 20 percent of households are renting. The contrast is stark for the poorest 10 percent of locations, where over half of households have landlords.
Perhaps not surprisingly, the richest locations also skew older, with 78 percent of households in those top 1 percenter locations headed by individuals 45 years and older, versus about two-thirds for the national average.
Before it's here, it's on the Bloomberg Terminal.
LEARN MORE